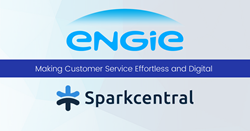 SAN FRANCISCO (PRWEB) September 26, 2017
Leading enterprise digital customer engagement platform Sparkcentral today announced its partnership with ENGIE Electrabel, a subsidiary of the international, publicly traded ENGIE Group that provides energy and energy services across the world. ENGIE Electrabel selected Sparkcentral to better engage its millions of customers and deliver support across digital channels like Twitter, Facebook Messenger, mobile apps, the website and more.
The partnership is the first deal of its kind for both parties, leveraging digital customer service within the commodities industry, where deregulation is creating more competition for customer loyalty. According to an IBM benchmark study, utility customers in Europe are discussing topics like bill costs and service issues more frequently on social media. However, customers addressing issues with their service providers via social media commonly receive a response asking them to call or email for assistance. This request to switch channels is considered a "high effort" interaction, and ENGIE Electrabel's strategic move to digital messaging will ensure that customers are receiving the support they need in their preferred channels.
"Sparkcentral understands our needs and we share the same vision of messaging-based customer service propelling communication between customers and service providers today and into the future. In this way, we will be able to enhance our relationship with new and existing customers through more personalized, streamlined communication," said Jan De Smet, Head of Customer Service & Operations for B2C & B2B at ENGIE Electrabel.
"Customer service quality has always been a key differentiator for ENGIE Electrabel on the Belgian market. Social media and mobile messaging is rarely fully leveraged in the utilities industry, so we have the opportunity to truly differentiate in offering a higher level of customer service and delight our customers," said Annick Rossey, Chief Marketing & Sales officer, Belux.
According to Sparkcentral's "Customer Messaging: Happy Customers, Productive Employees & Better Financials" report launched earlier this year, companies using messaging achieve nearly 3x greater customer satisfaction and lower the customer effort required for service by 111 percent. With Sparkcentral, ENGIE Electrabel is lowering the total cost of servicing customers, reducing effort for customers and agents, providing quicker, better quality care.
"ENGIE Electrabel is one of the largest and most innovative energy companies in Europe and is fully embracing the future of customer service with its transition to digital messaging," said Davy Kestens, CEO of Sparkcentral. "Partnering with Sparkcentral illustrates ENGIE's sincere commitment to providing an effortless customer experience. I am excited for us to create best-in-class industry-leading customer experiences together."
Together with utilities NRG, Consumers Energy, and Scottish Water, ENGIE Electrabel joins Sparkcentral's customer-centric client roster, which includes companies such as Zappos, JetBlue, Discover, Netflix, Delta Air Lines, Emirates, Slack, and Western Union.
About Sparkcentral
Customer-obsessed companies use Sparkcentral's leading mobile and social customer engagement platform to manage and resolve customer service interactions over modern digital channels in a simple, streamlined and fun way. With the fastest customer routing and prioritization technology in the business and innovative workflow optimization and reporting tools, Sparkcentral helps global brands like Delta Air Lines, Uber, Nordstrom, JetBlue, Emirates, Zappos and more deliver effortless and cost-effective customer service experiences and drive brand loyalty. A two-time CODiE Award winner for Best Customer Service Solution in 2016 and 2017, Sparkcentral is headquartered in San Francisco, USA and has its EMEA headquarters in Hasselt, Belgium. To learn more, visit http://www.sparkcentral.com and follow @Sparkcentral on Twitter.
About ENGIE Electrabel
ENGIE Electrabel is Belgium's market leader when it comes to the sale of electricity, natural gas and energy services. The company is firmly committed to the energy transition, offering its 2.7 million residential, professional and industrial customers innovative solutions to help them to consume energy in a more efficient and thoughtful way, as well as enhancing their level of comfort. ENGIE Electrabel generates electricity close to its customers, thanks to the company's diversified generation facilities - facilities that produce very little CO2, have a capacity of 9,600 MW and comprise wind turbines and solar farms, as well as hydroelectric, biomass, natural gas, pumped storage and nuclear power plants. ENGIE Electrabel employs 4,400 energy experts.