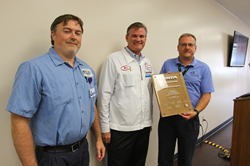 Continuing to receive this kind of recognition from Honda is a great motivational factor for our associates who do an excellent job
Valley City, Ohio (PRWEB) September 27, 2017
Automotive parts manufacturer, Fuserashi International Technology (F.I.T. Inc.), has been honored by Honda with the Excellence in Delivery Award at the 2017 Honda Suppliers Conference in Birmingham Alabama.
F.I.T. has been recognized during their partnership with Honda before, earning the Excellence in Delivery Award five times and the Excellence in Quality Award nine times. Twice Honda has awarded F.I.T. double awards in both categories. Out of the 675 Honda suppliers, only 27 suppliers were honored in delivery this year and F.I.T. was the only honoree in their competitive commodity group.
"Honda has very high standards and higher quality and delivery standards than many vehicle makers," said Keith Albrecht, General Manager at Fuserashi International Technology, Inc (F.I.T.) "To be amongst the top of their groups and to be the top in our supply category is a great honor."
During the suppliers conference, Honda stressed the significance of both quality and innovation as the two key factors in changing customer demand. "F.I.T. is not a Fortune 500 automotive components supplier," said Albrecht. "We don't have a massive sales force in North America but the recognition of this award in front of all of Honda's other 700 suppliers, who are also potential customers for F.I.T., really sets us apart. This award is very important to our future success and our company's identity."
F.I.T. is known for its defect-free parts and that reputation for excellence is engrained in its company culture as well. All associates must make a commitment to quality over quantity to be successful. F.I.T. shares this award with all company associates, because the recognition demonstrates everyone's dedication to precision.
To show appreciation for their employees' efforts and accomplishments, an award recognition luncheon was held. A high ranking executive with Honda presented the award to F.I.T's associates and emphasized Honda's appreciation.
"Continuing to receive this kind of recognition from Honda is a great motivational factor for our associates who do an excellent job," said Hal Wagoner, Chief Operating Officer. "We always emphasize an attention to detail, and it just helps reinforce it to our associates that we aren't just making that up, there is a reason for it."
About F.I.T.
Established in February of 1996, F.I.T., Inc. is the first international subsidiary of Fuserashi Co., Ltd. Fuserashi is a Japanese manufacturer of hot and cold formed precision metal products and fasteners, primarily for various vehicle applications, with a tradition of quality, service, and performance. Since opening its doors over 20 years ago, F.I.T. has more than quadrupled its footprint, both in terms of facility size and equipment. With four major plant expansions, substantial employee growth, and an accelerating customer base, F.I.T. continues to innovate in its field.