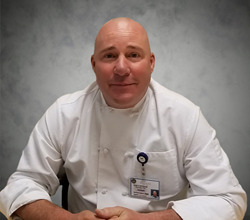 I cannot even begin to describe the happiness l get from cooking for a room full of people.
Albuquerque, NM (PRWEB) September 22, 2017
Isleta Resort & Casino is proud to announce the appointment of Executive Chef Joseph Rogers. Chef Rogers assumed responsibility in the Isleta kitchen in September, amid an exciting buzz for his passion and dedication for cooking and teaching.
Chef Rogers has more than thirty years of experience in culinary industry, beginning in 1984 when he developed a hobby of cooking for family and friends. Word of his talent quickly spread, leading to his first culinary job by happenstance. A 4.0 gpa student of the Culinary Institute of America, Chef Rogers served 9 years in Scottsdale, Arizona at the Fairmont Scottsdale Princess, a 5 Diamond Resort. His lengthy experience also includes:
Executive Chef at Winstar World Hotel in Thackerville;
Executive Sous Chef at the Hilton Atlanta Airport;
Sous Chef at the Lantana Grille at Squaw Peak Hilton in Phoenix, Arizona;
Executive Sous Chef at Greyhawk Golf Club in Phoenix, Arizona;
Television exposure and ownership of two businesses.
Chef Rogers joins the Isleta team, after leaving Hotel Abrego in Monterey, California, where he served as Food and Beverage Director since 2014. His talent and love for cooking include a zeal for teaching, as well as pride in a clean and happy kitchen full of laughter.
"I have a personalized license plate that says LUV2FEED, because I truly do love to feed. Nothing makes me happier then walking out into a full dining room and seeing people enjoy my culinary creations," explains Rogers.
Chef Roger's talents will permeate every food avenue of Isleta Resort & Casino, including Embers Steakhouse, Chile Ristra, TIWA Restaurant, Daubers Grill, Triple Sevens Saloon, the Golf Course Grill, and the Employee Dining Room. His experience in the industry will heavily impact the Resort's development of a new Food & Beverage remodel, as part of the Resort's ongoing $40 million renovation.
Chef Rogers brings an incredible talent to the Isleta kitchens, unparalleled to that of any other executive chef in the Albuquerque area. We invite guests to visit Isleta Resort & Casino to meet Chef Rogers in person, guaranteeing you'll be delighted in his love for cooking, his excitement for representing the Isleta team, and his extreme joy of serving and delighting others.
###