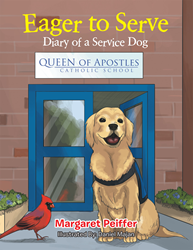 ALEXANDRIA, Va. (PRWEB) September 25, 2017
Author Margaret Peiffer has released an inspirational and educational new children's book, "Eager to Serve – Diary of a Service Dog." The story follows the life a Golden Retriever service dog named Ana and was written to teach children to be kind and considerate to those with a disability, but also highlights the independence a service dog provides to its human.
Told from the perspective of Ana the service dog, as if she were writing in a diary, the story chronicles Ana's beginning as a puppy waiting for adoption, training to become a service dog, and her time as a guide dog for a young blind girl named Amy. Ana assists Amy through elementary school until her first year of college and then retires on a farm with other retired service dogs.
The heartwarming story and sweet illustrations will touch anyone especially those who have owned a dog.
"I was inspired to write this book as I've always been very interested in service dogs and want people to know more about them and the freedom they provide to their human," said Peiffer.
As a former volunteer reading specialist for the Queen of Apostles Catholic School located in Alexandria, Virginia, Peiffer is donating a portion of the proceeds from the sale of her book back to the school and students.
To learn more, please visit http://www.margaretpeiffer.com/.
"Eager to Serve – Diary of a Service Dog"
By Margaret Peiffer
ISBN: 978-1-4907-7656-9 (Softcover), 978-1-4907-7805-1 (eBook)
Available at Amazon, Barnes & Noble, Trafford Publishing
About the author
Margaret Peiffer worked for the federal government for thirty-tree years in personnel management and retired in 1997. She started a second career that same year as a volunteer reading specialist at Queen of Apostles Catholic School. Peiffer has a passion for encouraging early childhood literacy as she believes it is the foundation for success. She currently resides in Alexandria, Virginia.
Review Copies & General Inquiries:
LAVIDGE - Phoenix
Lauren Dickerson
480-998-2600
ldickerson(at)lavidge.com