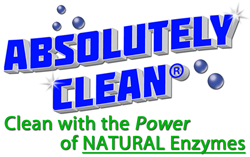 (PRWEB) September 25, 2017
We know that most people have found themselves in this exact scenario at one time or another: They're enjoying a nice relaxing evening at home, watching television or reading their favorite book while sipping on a glass of wine when suddenly, a spill occurs. If the wine ends up on the hardwood floors, that's one thing. On the other hand, if the wine ends up permeating the brand new plush white carpet, Panic is likely to ensue, running around the house looking for anything that may be able to remove the stain that is already beginning to set. While this may have been how this situation has always played out in the past, there's a new solution that will ensure consumers never have to experience the frenzy that occurs after a wine spill ever again.
The newest product from Absolutely Clean® takes the worry out of drinking wine and instead, gives the peace of mind that even if a spill was to occur, there's an instant, satisfaction guaranteed, one minute solution on standby. This cleaning product is specifically formulated to remove red wine stains, meaning the dye contained in vino won't stand a chance.
With the Absolutely Clean 60 Second Wine Stain Remover, consumers have to ability to spot treat wine stains, or put it in a carpet cleaner in order to treat larger spaces at once. The powerful enzymes in this product are entirely natural and perfect for cleaning everything from carpet to upholstery and more! This means no more worrying about whether it is safe to use around children or pets. In fact, it's so safe and easy to use, that even children can use it.
Whether the wine be red or white, or there are other types of stains like one caused by grass, blood, grease or pets, this amazing product won't disappoint. Carpet is a hefty investment and therefore, it's important to have the ability to take care of any stains that may threaten its look, or feel, as soon as possible. The Absolutely Clean 60 Second Wine Stain Remover makes this not only possible, but quick and painless.
Available in three different sizes (16oz, 32oz, and 128oz), pick the right amount for any home, and all at an affordable price. Ranging from $14.99 to $54.99, extending the life and the look of the carpet in the home or even in a business has never been simpler. Start shopping today and purchase Absolutely Clean 60 Second Wine Stain Remover!
About Absolutely Clean®
Based in Colorado, Absolutely Clean is a family run, veteran owned company dedicated to selling family-safe and environmentally friendly products that will make lives better and easier for home and business owners all over the country. Their mission is to continually look for and develop ways for their customers to be able to clean with exceptional power while also ensuring a chemical free environment. For information on more revolutionary cleaning products being offered by this company visit absolutely-clean.com .