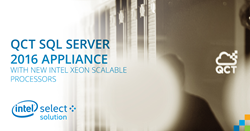 "This solution will help IT to accelerate deployment of hybrid database platforms addressing the challenges of increased workload complexity and long implementation cycles in developing scalable," -- Lisa Spelman, VP, GM Intel Xeon Products & Data Center Marketing
San Jose, California (PRWEB) September 23, 2017
Quanta Cloud Technology (QCT), a global data center solution provider, has announced its Intel® Select Solution version of QxData SQL Server Appliances, running on its 2nd Generation Server Platforms to simplify data center modernization at Microsoft Ignite. This Intel® Select Solution runs on the new Intel® Xeon® Scalable processors, is based on Intel's recommended specifications, and delivers performance results verified by Intel. This QCT solution is pre-configured hardware with software stacks optimized for SQL server workloads that exceed strict Hammer DB benchmark standards.
QCT will demonstrate the appliances at booth #513 at Microsoft Ignite starting September 25, 2017
Intel® Select Solutions are workload-optimized data center solutions for the data center that speed up deployment. These verified hardware and software configurations help customers accelerate their process when selecting and deploying the hardware and software needed for today's broad array of workloads and applications. Based on the Intel® Xeon® Scalable processors, Intel® Select Solutions enable Enterprises, Cloud Service Providers, and Communication Service Providers to make confident choices when deploying their data center infrastructure due to that fact that these solutions are predefined and purpose built. Intel® Select Solutions for Microsoft SQL Server 2016 deliver qualified and optimized solution configurations for a scalable, hybrid database platform. The QCT QxData SQL Server Appliances are no exception as they provide strong reliability, security, and software innovations under the Intel® Select Solution brand.
QCT Spearheads SQL on Intel Xeon Scalable Processors with Base and Plus Configurations
QCT features two configurations in order to help customers thrive in today's dynamic application scenarios. The "Plus" configuration, with all-NVMe SSDs is designed for mission-critical workload environments to provide excellent performance for database transactions and queries. On the other hand, the "Base" configuration is a good fit for mainstream database application with consideration for better TCO. Both configurations are validated by the Hammer DB benchmark, which serves as a great measurement for OLTP performance (Online Transaction Processing). The "Plus" configuration achieves 6,328,799 TPM (Transaction Per Minute) scores ensuring the solution stack can deliver a premium customer experience.
Be sure to visit the QCT Booth #513 at Microsoft Ignite to speak with a representative about the QxData SQL Server Appliances, Intel Select Solution.
Intel and QCT will continue to create other Intel® Select Solutions with benchmark-performance thresholds for "Base" and "Plus" configurations to be released by the end of 2017 as part of their first wave of Intel Select Solutions. These solutions will help businesses deploy solutions faster than a "home-grown" one, so stay tuned and keep your eyes on the Intel® Select Solutions website for updates. Also, follow QCT on its growing communities: QCT Technical Blog, LinkedIn, and Twitter.
"This collaboration between Intel and QCT addresses the continuing needs of our mutual customers by delivering a cloud-ready solution geared towards businesses with large analytic challenges. We are thrilled to continue our investment in game-changing technologies with this software-defined solution," said Mike Yang, President of QCT. "With QCT's QxData SQL offering, we are proud to be at the front line in leading data center transformation together with Intel to meet the needs of our ever-evolving customer demands."
"QCT continues to bring innovation to market with its Intel® Select Solution for Microsoft SQL Server," said Lisa Spelman, vice president and general manager of Intel Xeon Products and Data Center Marketing at Intel. "This solution will help IT to accelerate deployment of hybrid database platforms addressing the challenges of increased workload complexity and long implementation cycles in developing scalable."
About QCT
Quanta Cloud Technology (QCT) is a global data center solution provider. We combine the efficiency of hyperscale hardware with infrastructure software from a diversity of industry leaders to solve next-generation data center design and operation challenges. QCT serves cloud service providers, telecoms and enterprises running public, hybrid and private clouds.
Product lines include hyperconverged and software-defined data center solutions as well as servers, storage, switches and integrated racks with a diverse ecosystem of hardware component and software partners. QCT designs, manufactures, integrates and services cutting-edge offerings via its own global network. The parent of QCT is Quanta Computer, Inc., a Fortune Global 500 corporation. http://www.QCT.io.
Intel and Xeon are registered trademarks of Intel Corporation in the United States and/or other countries. The names of actual companies and products mentioned herein may be the trademarks of their respective owners.