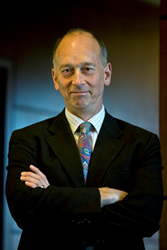 "There are few truly acknowledged leaders who have made the study and fighting of government fraud a cornerstone of their careers – Malcolm tops that short list."
Sacramento, California (PRWEB) September 25, 2017
Pondera Solutions (Pondera), the leading software solution for combatting fraud, waste, and abuse in large government programs, announced today that Harvard Professor and noted author Dr. Malcolm Sparrow was appointed to the company's newly formed Board of Directors. Sparrow is the first independent director named to Pondera's Board.
One of the world's leading authorities on both government fraud control and law enforcement issues, Sparrow is Professor of the Practice of Public Management at Harvard University's John F. Kennedy School of Government. He is also Faculty Chair of Harvard's Executive Program, "Strategic Management of Regulatory & Enforcement Agencies."
Frequently cited as an expert in prominent media outlets such as the Economist and New York Times, Sparrow is the author of eight books. He has also provided expert testimony before multiple U.S. Senate and House Committees and in state legislatures.
"I am excited to help Pondera in their efforts to address fraud and abuse in government programs. Their approach and future goals are closely aligned with things I believe in and that's why I am pleased to join Pondera's Board of Directors. I look forward to helping Pondera excel in the mission area they have selected," said Sparrow.
Sparrow's 2000 book, "License to Steal: How Fraud Bleeds America's Health Care System", tackles the estimated $100 Billion plus annual fraud problem in the United States, and is considered the definitive source on fraud detection and fraud control strategy for major government programs.
"When I founded Pondera in 2011, the first thing I did was study Malcolm's book on health care fraud. It's the Bible in the business of combatting fraud in government programs. Today, his book remains mandatory reading at Pondera," said Pondera's Chief Executive Officer Jon Coss. "Malcolm will provide us with valuable insights as we continue on our growth trajectory. There are few truly acknowledged leaders who have made the study and fighting of government fraud a cornerstone of their careers -- Malcolm tops that short list. He will be a critical resource to me, our executive team and employees as well as the government clients we serve."
At Harvard, Sparrow's research has included regulatory and enforcement strategy, fraud control, corruption control, and operational risk management. He is also a patent-holding inventor in the area of computerized fingerprint analysis. Earlier in his career, Sparrow served 10 years with the British Police Service, rising to the rank of Detective Chief Inspector.
Pondera leverages advanced predictive algorithms and the power of cloud computing to prevent fraud in government programs. Their core solution, Fraud Detection as a Service (FDaaS®), helps clients to detect and analyze claims, payments, and program participants, quickly sifting through massive data sets to identify and alert agencies to problems that require follow-up investigation. Because FDaaS uses machine learning and geospatial technology, it also continues to evolve over time, uncovering new and emerging types and patterns of fraud. In operation since 2013, FDaaS has already saved states hundreds of millions of taxpayer dollars in Medicaid, Unemployment Insurance, Supplemental Nutrition Assistance Program (SNAP), Tax, and other large government programs.
Pondera Solutions recently received a significant investment from Serent Capital, a San Francisco-based private equity firm focused on investing in high-growth technology and services businesses.
"Malcolm will provide a unique and informed perspective to Pondera's work and continued growth. It's a credit to the executive team that someone of Malcolm's caliber was interested in being a part of Pondera. We are grateful for his service on the Board of Directors," said David Kennedy, Partner at Serent Capital and Chairman of the Pondera Board of Directors.
About Pondera Solutions
Pondera Solutions was founded in 2011 with the singular focus of leveraging the power of cloud computing and advanced analytics to combat fraud, waste, and abuse in large government programs. Since that time, Pondera has helped clients, many of the largest state government programs in the country, to prevent and collect hundreds of millions of dollars in improper payments. Pondera offers a comprehensive cloud solution to help detect, investigate, and enforce fraud, waste, and abuse. The system combines program data with third party consumer and business data and then runs every business, beneficiary, and transaction through a series of procedural and prediction models.
The system flags transactions that violate predetermined thresholds and sends an alert to an integrated dashboard "built by investigators, for investigators". Program integrity staff can then analyze the lead, use the system to investigate the lead, and even create and manage a case for ongoing enforcement activities. For more information, visit the company's website at http://www.ponderasolutions.com.
About Serent Capital
Serent Capital invests in growing businesses that have developed compelling solutions that address their customers' needs. As those businesses grow and evolve, the opportunities and challenges that they face change with them. Principals at Serent Capital have firsthand experience at capturing those opportunities and navigating these difficulties through their experiences as CEOs, strategic advisors, and board members to successful growing businesses. By bringing its expertise and capital to bear, Serent helps growing businesses thrive.