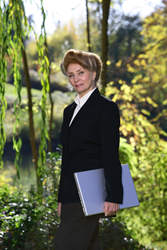 Grants Pass, OR (PRWEB) September 25, 2017
International Water Advocate Sharon Kleyne has a good idea. Kleyne, host of the nationally syndicated The Sharon Kleyne Hour Power of Water, Global Climate Change and Your Health on VoiceAmerica sponsored by Nature's Tears® EyeMist®, would like us to shift our Olympic focus from a once-every-four-years series of events to a personal, daily Health Olympics. "Wouldn't it be great," said Kleyne, "if we had an Olympics every day for health—if each of us lived and practiced our own health Olympics. We could even hand out ribbons and other awards for reaching milestones like going so many days without catching a cold, missing work or school or reaching a weight-loss goal."
"Of course," Kleyne said, "part of each person's Olympics regimen would include drinking at least 8-to-12 glasses of water a day." Kleyne explained that everyone on earth walks around like uncharged batteries. We are energetically depleted because the water vapor we need to breathe and live is constantly being lost to evaporation due to allergies, pollution, wind, heat, cold and artificial environments (central heating and air conditioning). Kleyne described how the moment we leave the mother's watery womb, we begin a natural process of evaporation that continues until death. In order to live a long and healthy life, we need to supplement and replenish our body water vapor with fresh, pure water. Our atmosphere also needs to be replenished because we need that moisture in the air we breathe.
Dr. Capperauld agreed, insisting that replenishing body water vapor lost to evaporation is a major remedy for reducing inflammation. Olympic athletes aren't the only ones who need to be vigilant about hydrating their bodies. Dr. Capperauld also warned people about the dangers of processed foods, which actually increase the water vapor evaporation process in the human body. Capperauld reminded people that we're in the third generation of processed foods, and we're beginning to see infertility, heart disease, diabetes, digestive issues and other illnesses and diseases on the rise. Capperauld also added that "shifting a diet creates awareness around a patient's body. This is so important because a vast majority of people eat an inflammatory diet."
Capperauld and Kleyne, who is also the founder of founder of Bio-Logic Aqua® Research Water Life Science®, called for more research to develop advanced new water technology. The new research would support healthy diets and water habits and increase educational opportunities in water studies for the general populace. "People want to learn, but they want to learn from the right information," said Capperauld.
Kleyne encouraged everyone to create their own personal Health Olympics or perhaps organize with friends, which would help some people with motivation. "A new water lifestyle can be yours," said Kleyne, "if you make an honest effort."
Would you be interested in setting up your own personal Health Olympics? If you would and you think we can help you, then we'd like very much to hear from you! You can reach us in the following ways. Sharon(at)biologicaquaresearch(dot)com 800-367-6478 ~ Fax 541-474-2123 http://www.naturestears.com or on Twitter at @sharonkleynehr