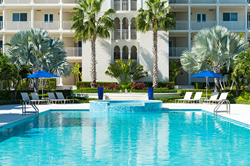 "The Venetian crews have been hard at work getting our resort back for business." Terria Misick, General Resort Manager.
Providenciales, Turks & Caicos Islands, BWI (PRWEB) September 25, 2017
The Venetian on Grace Bay in Turks & Caicos Islands is happy to announce the resort is re-opening on October 1st. And, throughout the month of October, the resort will be offering 40% Off on all one, two and three bedroom oceanfront rentals.
Hurricane Irma and Maria have passed and damage to the Venetian was very minimal and mostly cosmetic in nature so repairs have been made and the resort is ready to re-open its doors on October 1st.
"The Venetian was very blessed with minimal structural damage, mainly cosmetic issues to be fixed. Hurricane Irma's high winds brought down a few palm trees and other landscaping on the property but our crews have been hard at work getting the resort back for business. We are #TCIStrong as the entire Turks community has pulled together to restore and rebuild our "beautiful by nature" island."
The Venetian will offer 40% Off rack rates during the entire month of October! A three night minimum stay is needed in order to apply the promotion. Interested visitors can call 1-866-242-0969 or 1-877-277-4793 or go directly to the website, http://www.thevenetiangracebay.com.
About The Venetian on Grace Bay
Only a fifteen minute drive from the Provo International Airport, The Venetian on Grace Bay offers intimacy and luxury in an exclusive oceanfront Grace Bay beach setting. If you are looking for elegant island living, look no further than The Venetian -- for all the amenities of resort living without the crowds. Our private, gated oceanfront setting offers luxury custom-decorated villas in one, two, or three bedroom settings. Fully equipped kitchens, open concept dining and living spaces with beautiful furnishings, screened in patios for amazing Grace Bay views.