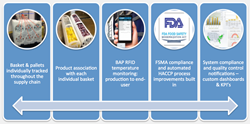 The FMSA of 2011 has opened up 'plug-and-play' opportunities for companies to automate and electronically track all aspects of their product (operator, temperature, weight, seals, purchase order, etc.,) throughout the entire supply chain via a SaaS asset management system"
White Pigeon, MI (PRWEB) September 25, 2017
The Asset Tracking and Temperature monitoring system works in conjunction with Next HPP's basket and pallet solution. It is as simple as scanning the bar code of the product and lot ID then scanning the HPP basket and pallet. All data is sent to a secure internet cloud where violations are automatically generated and exception alerts sent out to designated individuals.
"In recognizing the tremendous pressures our asset and temperature tags would confront during the HPP process, extensive field testing was performed," affirmed Gerald Ludwick, General Manager of Next HPP. "In addition, our solution is able to monitor temperature inside the vessel while the product is processed. The product temperature is also monitored when the cycle completes. Under the HPP process, the temperature of the product will naturally increase and needs to be brought within tolerance in a very short timeframe."
Manual data collection and manual violations errors are eliminated, a true advancement for HPP!
Keith Schall, Director of Technology Solutions at CHEP, observed, "Product traceability within the food & beverage industry is no longer considered a luxury but a requirement within a company's HACCP system. The FMSA of 2011 has opened up 'plug-and-play' opportunities for companies to automate and electronically track all aspects of their product (operator, temperature, weight, seals, purchase order, etc.,) throughout the entire supply chain via a SaaS asset management system"
Come See Us at the IFSH (Institute For Food Safety and Health) Annual Meeting September 26 and 27, 2017, at the Chicago Marriott Southwest at Burr Ridge, Burr Ridge Chicago. We are honored to have Keith Schall demonstrate the efficacy of the Supply Chain Management Solution.
NEXT HPP entered the High Pressure Processing Industry after several years of operating and consulting for food processing companies who owned HPP machines. Next HPP's team has worked with several of the manufactures of HPP machines in a variety of capacities. It is the experience gained in these different roles that provided the framework for the Next Generation Series of Machines and Material handling solution. However it is the unique and diverse background of the entire team at Next HPP that brought to the forefront a machine that utilizes best practices from many different industries.
MORE ABOUT ALL NATURAL FRESHNESS
All Natural Freshness has become a Sales, Marketing, and Education resource concerning All Things Related to HPP.
MORE ABOUT CHEP
CHEP was founded more than 60 years ago. Since then, we've helped more companies move more goods, to more places, more efficiently and more sustainably than anyone else in the world.
We are a company of supply chain experts and engineers, and we've been in literally tens of thousands of supply chains. Bringing that unmatched experience to bear we've created a suite of pragmatic, actionable and affordable solutions that can make your supply chain quantifiably better. No one has more solutions to help you move things in, out and through your supply chain.