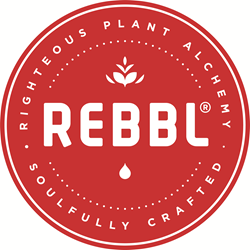 REBBL® is one of the brands we believe represents the pinnacle of the natural products industry today
EMERYVILLE, CA (PRWEB) September 25, 2017
The trend-spotters, tastemakers, and healthy lifestyle product experts at the New Hope Network have awarded REBBL®, maker of organic coconut-milk based super herb drinks, with the new NEXTY Gold Award at the Natural Products Expo East trade show in Baltimore.
This was the inaugural year for the NEXTY Gold, which is reserved for just those companies that hit high marks on the criteria of innovation, inspiration and integrity when the judges consider product offerings, company and mission as a whole. NEXTY Gold is judged by the same team reviewing the ongoing NEXTY Award program that recognizes ground-breaking innovation in natural products. REBBL® was one of only two companies recognized with a NEXTY Gold this year.
"We are deeply honored to receive the Nexty Gold. New Hope Network has visibility into what all of the brands in the natural products space are doing, so it means very much to have their recognition for not only our nourishing and indulgent elixirs but also our partnership with Not For Sale to support regions of the world that are vulnerable to exploitation and human trafficking," said REBBL® CEO Sheryl O'Loughlin. "As we continue to grow, I am so proud that we are passionately keeping our commitment to what we stand for and that our values are being recognized with this unbelievably meaningful honor."
"We added the NEXTY Gold category as a way to recognize companies that continue to impress our judges year after year by epitomizing deeply held values. REBBL® is one of the brands we believe represents the pinnacle of the natural products industry today, and we were thrilled to award the company for its many achievements," said Carlotta Mast, Senior Vice President of Content & Insights, New Hope Network.
REBBL® has been awarded BevNET's Best New Beverage of 2015 & 2016 and Best Functional Beverage of 2016; New Hope's Expo East NEXTY for Best New Organic Beverage of 2016; Vegan Health & Fitness' Best Beverage of 2016 and Best Energy Drink of 2017; and included in the prestigious Conscious Company's Conscious Leaders of 2017; Forbes' Consumer Catalysts of 2016; the CircleUp 25 published by Forbes; and San Francisco's Business Times' Upstart 50.
About REBBL®
REBBL® Righteous Plant Alchemy TM is a celebration of the traditional super herb wisdoms refined over millennia, which are only now being openly shared, studied and embraced globally. Thousands of years of collective intelligence are captured in every bottle of super herb, adaptogen powered Elixirs and Proteins to deliver delicious and nourishing goodness. With a focus on great taste, every bottle of REBBL® is certified organic, soy and dairy free, gluten free, GMO free, and made without cane sugar, carrageenan, thickeners, gums, natural flavors or agave.
A Botanical Revolution for Good TM. REBBL® was born out of a conscious collaboration between global thought-leaders and Not For Sale, an international non-profit that works to end exploitation and protect communities around the world from human trafficking and modern-day slavery. Through a regenerative business model and a vision to create a world without human trafficking, REBBL® donates 2.5% of net revenue of every bottle sold back to Not For Sale. This donation helps support their global efforts to rehabilitate victims of trafficking by providing shelter, education, healthcare, job training and more. REBBL® also works closely with our farmers and grower communities to support their livelihood so they are not vulnerable to trafficking through impact sourcing practices by ensuring they have fair wages, access to resources and rights protections. REBBL® is in the process of becoming a Certified B Corporation, a process expected to be completed by the end of 2017
To learn more about REBBL®, please visit http://www.rebbl.co.
Media Contact:
Carrie Kocik
REBBL® Public Relations
(617) 694-5971
carriekocik(at)gmail(dot)com