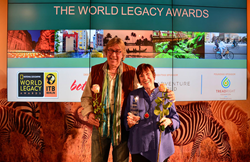 a stunning lodge devoted to sustainability and green tourism, but doesn't scrimp on luxury
San Ignacio, Belize (PRWEB) September 26, 2017
The Lodge at Chaa Creek has once again been recognised as one of the world's top sustainable resorts, further cementing the popular Belizean eco-resort's reputation as a pioneering leader in sustainable travel, according to general manager Bryony Fleming Bradley.
A September 14 article, " Top 5 Sustainable Hotels Around The World," in Luxury Travel Blog, identified five hotels in Australia, Cambodia, Iceland, the USA and Belize's The Lodge at Chaa Creek, which travel writer Tom Marchant describes as;
"In the lush Belizean jungle, this luxury hotel has led the way for sustainable tourism in the region. Sustainable construction, sustainable operations and initiatives allow nature to flourish and welcome the local wildlife. With a range of accommodation available – from sleek villas boasting outdoor hot tubs, plunge pools and private butlers, to budget friendly camping – Chaa Creek is triumphantly blurring the lines between the worlds of high end and budget eco-tourism"
Mr Marchant is co founder of Black Tomato, an international luxury travel agency that has previously described Chaa Creek as a "must" for those travellers with
"... a sense of adventure but a discerning taste for the better things in life. Offering an authentic jungle experience in the beating heart of Belize's rainforest, Chaa Creek is a stunning lodge devoted to sustainability and green tourism, but doesn't scrimp on luxury as a result."
Ms Bradley said such comments reflect well not only on Chaa Creek, but the state of global tourism in general.
"My parents, Mick and Lucy Fleming, started Chaa Creek with a few small cottages on our family farm on the Macal River back in 1981, the same month Belize achieved independence from Great Britain. Belize was still relatively unknown, and the Cayo District even more so, so most of our early guests were researchers exploring the local ancient Maya temples and archaeological sites, professional birders, people studying Belize's flora and fauna, local culture and so on.
"And since they were both keen environmentalists, they attracted likeminded people and developed Chaa Creek very consciously, working with the natural contours of the land, building around big trees rather than cutting them down, and building in a sustainable manner.
"As my father says, Chaa Creek was an eco-resort before we even heard the term, and we've been happy to keep it that way, and proving that you can combine luxury, great food and service and exciting activities in ways that actually benefit the environment and local communities.
"And over the years we've been fortunate that more and more travellers feel that same sense of responsibility to the land and people they visit, and that sustainable tourism has become so popular. It's a very good sign," Ms Bradley said.
It would appear that global travel trends have caught up with the Fleming's green ethos. In a recent Condé Nast Traveller survey, 93% of respondents stated that travel companies should be responsible for protecting the environment, and 58% said they based their choice of a hotel on the support it gives to local communities, while Forbes quotes a survey that shows nearly two-thirds of US travellers "often or always" consider the environment when choosing accommodation.
And in a 2012 Trip Advisor survey, 71% of respondents said they planned on making more-eco-friendly choices during the next year, and that 65% actually did so in the last twelve months.
In this global travel climate, Chaa Creek continues to attract attention and recognition such as first place honours in their category at the 2017 National Geographic World Legacy Awards presented at the world's largest travel trade fair held in Berlin last February.
The Belizean eco-resort also has been recognised by Green Globe with that organisation's highest certification, was among the Travel Chanel's top "Eco-Friendly Luxury Resorts", Green Hotelier's "Eco-Hotels of the World", and has been recognised by TripAdvisor, Green Travel Index, Trip Savvy, L'EcoResorts, and other travel authorities for their commitment to sustainable travel and responsible tourism.
Situated with a 400-acre private nature reserve with a wide range of accommodations spanning the rustic to the luxurious, and featuring farm-to-table dining at the onsite Mariposa restaurant, Chaa Creek also features an internationally recognised Hilltop Spa, eco-infinity pool, a Belize Natural History Museum, butterfly breeding farm, traditional Maya organic farm and rainforest medicinal plant trail and other amenities.
Onsite activities include river canoeing and tubing, horseback riding and nature hikes along miles of trails crisscrossing the nature reserve, jungle and river safaris, morning bird identification, nocturnal wildlife adventures and more, giving Chaa Creek the reputation as Belize's "Destination within a Destination" among travel industry professionals, Ms Bradley explained.
"Chaa Creek's growth in many ways parallels that of Belize's. We grew very quickly, but more importantly we did so with scrupulous attention to how development would affect the environment and our local communities. Fortunately, we tapped into a more responsible attitude towards tourism on the part of many of today's travellers, and that's been really beneficial for everyone concerned, I think.
"It's the very definition of a win-win situation," Ms Bradley said.
The Lodge at Chaa Creek is a multi-award winning eco resort set within a 400-acre private nature reserve along the banks of the Macal River in Belize. It was recognised by National Geographic with first place honours at the 2017 World Legacy Awards held in Berlin.
ENDS