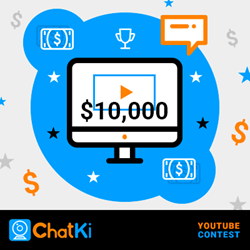 With so many creative talents operating on YouTube we are hoping to see some excellent entries and look forward to the competition
Los Angeles, CA (PRWEB) September 26, 2017
Chatki has begun accepting entries for the 2017 YouTube Video Contest. The contest challenges YouTube personalities, creative talents, and anyone else who owns a YouTube channel to showcase their creativity by producing viral video content. Judging of the competition will relate to the number of views obtained by each entrant during the contest timeframe. The winner will receive $10,000, runner-up $1,000, third place $500, and fourth through to tenth places $100 each.
The rules for this year's contest are:
1. Entrants have a full creative license for the theme, production, and topic of the video. However, the content must relate to Chatki in some form.
2. Entries must include "Chatki" in the title and add the tag "Chatki" to the video on YouTube.
3. All entrants must submit their entry by sending an email to contest(at)chatki.com and including their name, contact details, video title, and link to the video on YouTube.
4. Only entries received before October 31st, 2017 at 11:59 pm Pacific Time will qualify for the contest. Judging the final results is based on views received until December 31st, 2017 at 11:59 pm Pacific Time.
The winners of the top three prizes will appear on the Chatki website within seven days of the tallying of results with the remaining winners contacted by email or phone call. For a full list of the contest rules, please visit https://chatki.com/contest or for further queries regarding the competition, contact Shea Robins at contest(at)chatki.com.
"We are excited to announce the launch of our $10,000 YouTube Video Contest," said Chatki Press Manager, Shea Robins, "With so many creative talents operating on YouTube we are hoping to see some excellent entries and look forward to the competition."
About Chatki
Chatki is an entirely free, easy to use video chat messenger service where people can use their webcam to make new friends, find love, learn a new language, or discover a new culture online. Chatki offers a lightweight and simple video chat platform, the ability to filter users by country, and a free mobile app for chatting on the go.