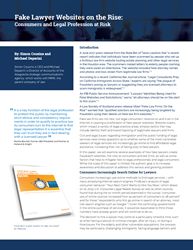 Martha Barnett, former American Bar Association President and Partner at Holland & Knight said, "It is a key function of the legal profession to protect the public by maintaining strict ethical and competency requirements in order to qualify to practice law. As consumers turn to the Internet to find
New York, NY (PRWEB) September 26, 2017
Legal consumers' reliance on the Internet is causing a proliferation of fake lawyer websites. A new white paper, released today, explores scammers' methods and the pervasive harm they cause to legitimate lawyers and vulnerable clients.
Fake lawyer scams impact a variety of legal practice areas, and employ tactics that commonly include identity theft and brand hijacking of legitimate lawyers and firms. The white paper, "Fake Lawyer Websites on the Rise," examines how fake lawyers create fraudulent websites, the risks to consumers and law firms, and some factors that help mitigate risks to legal professionals and legal consumers.
Martha Barnett, former American Bar Association President and Partner at Holland & Knight said, "It is a key function of the legal profession to protect the public by maintaining strict ethical and competency requirements in order to qualify to practice law. As consumers turn to the Internet to find legal representation it is essential that they can trust they are in fact dealing with a licensed lawyer."
Published by Dot Law Inc., the company which manages the .law Internet top-level domain, the white paper presents a compelling argument for enhanced vigilance by law firms and their clients. In particular, civil and legal issues regarding immigration and the public funding of legal services raise timely questions concerning some of the most vulnerable seekers of legal services, and how they can fall prey to fake lawyers.
"Imposters masquerading as lawyers pose serious risks to consumers as well as to actual lawyers who have invested years establishing and maintaining a credible reputation. Consumers who've been scammed potentially increase their risk if they avoid consulting lawyers in the future," said Timothy B. Corcoran, former President of the Legal Marketing Association.
Lou Andreozzi, CEO of Dot Law, Inc (http://nic.law) said, "When the Internet recently expanded to allow new top-level domains, we recognized the need to have a restricted verified domain exclusively for lawyers. Why? To protect the integrity of the profession as consumers rushed to the Internet to get information on and engage a lawyer."
"Fake Lawyer Websites on the Rise" is freely available for download from https://we.tl/YaOUuhvDHC
About .law
.law is the restricted top-level domain (TLD) dedicated to the legal profession. .law promotes trust in the professional legal community by empowering lawyers, bar associations and other qualified legal institutions to demonstrate their credentials by virtue of using their verified .law domain name. Only qualified lawyers and legal institutions are eligible to secure a .law domain name. The .law TLD is wholly owned by MMX. For more information about .law please visit http://nic.law For more information about MMX please visit http://mmx.co
###