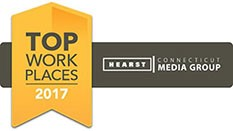 Norwalk, CT (PRWEB) September 26, 2017
Access Intelligence, a leading business-to-business media and information company, has been named one of the top 50 workplaces in Southern Connecticut in a just-released survey published by Hearst Media Services. The company was also honored at a gala last Wednesday in Monroe, CT. This is the third consecutive year the Norwalk office has earned this prestigious honor and the fourth consecutive year the company has been so recognized—in 2014, the Rockville, MD-based organization's headquarters was similarly cited in the Washington, DC metropolitan area survey. To read more, please click here.
The Top Workplaces are selected solely based upon employee feedback. The surveys, conducted by WorkplaceDynamics, LLC, a leading research firm specializing in organizational health and workplace improvement, measures several aspects of workplace culture, including alignment, execution, and connection. Access Intelligence, with several offices nationwide, serves business professionals with best in class events, professional development, publications, networking opportunities and digital solutions in an array of markets including Marketing, Media, PR, Energy, Satellite, Chemical Engineering, Healthcare and Aviation.
"Our employees work very hard to create a rewarding culture with a supportive atmosphere and excellent opportunities for accelerated career growth, a place where they are empowered and energized, and provided with a multitude of opportunities," said Don Pazour, president and CEO. "We again realize that the growth of our employees is the most important part of why we have grown as an organization. Receiving this honor four consecutive years running shows the consistency of the Access Intelligence brand and lets everybody know what we already know—that Access Intelligence is a fantastic place to work."
About Access Intelligence
Access Intelligence is a privately held, b-to-b media and information company headquartered in Rockville, Md., serving the marketing, media, PR, cable, healthcare management, defense, chemical engineering, satellite and aviation markets. Leading brands include PR News, Ad Exchanger, AdMonsters, Cynopsis, Cablefax, Folio, Event Marketer, LeadsCon, Chief Marketer, Media Industry Newsletter; Defense Daily Network, AviationToday, Studio Daily; Power, and Via Satellite. Market-leading shows include LeadsCon, AdMonsters OPS and Publisher Summits, The Folio: Show, Experiential Marketing Summit, SATELLITE 2018, OR Manager, LDC Gas Forums, Clean Gulf, Electric Power, and Western Power Summit.