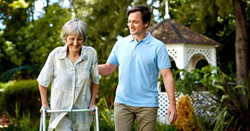 Plano, Texas (PRWEB) September 25, 2017
Sensogram Technologies Inc. today launched an Indiegogo campaign for VitalBand, the first and only fully programmable fall detection smart watch. VitalBand provides elite level fall detection, automatically calls any number you choose and texts as many critical contacts as you want so help arrives quickly. Plus, it's a fully functioning smart watch and activity tracker.
"One third of community-dwelling elderly persons and 60 percent of nursing home residents fall each year. By age 75, the mortality rate increases dramatically and accounts for 70 percent of accidental deaths," said Dr. Richard Slaughter, one of America's leading fall experts. "Testing of the VitalBand has proven its effectiveness in fall detection for the aged and those with neuromuscular dysfunction. This allows quick response and monitoring by loved ones and professional medical services."
Much more than just fall detection, VitalBand provides critical vitals signs like heart and respiration rates, step count, calories burned as well as easily programmable alerts, calendar and medication reminders and exercise goals. Additionally, VitalBand features one-touch SOS Panic Button capabilities so the wearer can quickly call for help anytime they feel ill or threatened. Plus, it has the sleek look of the most popular smart watches, all at a far lower price than any other device.
"With VitalBand, we see a single, comprehensive solution to the growing problem of falls among seniors and active adults. It allows them to maintain their freedom and independence while ensuring peace-of-mind for family and caregivers," said Ernie Ianace, Sensogram President. "Plus, its health and wellness capabilities and low cost put VitalBand in a class by itself when it comes smart watches and activity monitors."
We are offering significant discounts to early supporters and we would greatly appreciate your help. Simply go to http://www.indiegogo.com/projects/vitalband-smart-watch#/ to purchase one for you, an elderly parent who wants to maintain their freedom and independence, or an active athlete or teen who wants to feel safe whenever they're out alone.
A video describing VitalBand can be viewed by clicking on the link below.
https://www.youtube.com/watch?v=NBANylaWDrE
Contact Pete Ianace
pete(at)sensogram(dot)com