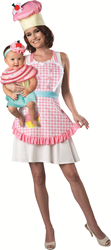 These cute and clever designs offer the absolutely perfect choice for moms who have a busy schedule!
(PRWEB) September 25, 2017
It's almost that time of year again. Pumpkins. Falling leaves. Cool weather on the way. A full moon on the horizon. And, of course, Halloween night! Is there really a more fun and creative holiday for moms and their little ones? Not to mention the mommy and baby milestone of that first time dressing up in costume!
When it comes to decking out their older kids, it's always easy for moms to find quick and easy Halloween-appropriate costumes in-store because there are so many options to choose from.
But when it comes to outfitting baby AND mom, that's a little more complicated. Why? Because wherever baby goes on Halloween, mom goes too. Moms are hip-connected to their little guy or gal for so much of the day/evening (at least until they tire out) – which means that 1) they also need to suit up in style and 2) they and their Halloween costume "alter-egos" are inextricably linked. And what fun-loving mom doesn't WANT to dress up for baby's first (or second) Halloween night?
Searching the stores to coordinate matching themed outfits is no easy task. And spending hours at the fabric store and trolling the web for handy craft ideas for moms and their mini-mes to sync up costume wise is something most moms with a little one simply don't have the time for.
This year, Kmart is coming to the rescue. They're offering a NEW adorable line of Mommy & Me Costume Kits from the popular Halloween costume designer InCharacter Costumes, LLC.
These premier quality designer costume sets are available in uber cute, eye-pleasing themed designs:

Chef (mom)/Cupcake (baby)
Island Hula Girl (mom)/Pineapple (baby)
Ringmistress/Lion Tamer (mom)/Lion cub (baby)
Barista (mom)/Cappuccino (baby)
The best part of all: the costume for mom isn't really a traditional costume at all – it just looks like one. It's actually an "apron-style" slip-on that easily ties from the back. From the front, it delivers all of the same styling and design as a full Halloween costume – providing an identical "look and feel." But it gives mom the flexibility to jump in and out of costume as needed in seconds, with a quick tie in the back.
It's the perfect "on and off" costume to wear all Halloween day and evening:
On – when they need to join the Halloween parade at daycare.
Off – when they're dashing off to work.
On – when they're walking the neighbor block with baby.
Off – when it's dinnertime.
On – when it's time to answer the door and hand out candy for local trick or treaters.
Off – when it's to time to host the "big kids" and adults back home after baby goes to bed.
After all, Halloween time is crazy enough as it is with multiple obligations and children to juggle. Designer Jessica Van Hulle explains: "The Mommy & Me line was borne from the need to create versatile and complementary designs to help moms who juggle a demanding schedule, yet want to enjoy and participate in the Halloween spirit as needed. The costumes can be slipped on and off in an instant for both mom and baby – allowing for quick diaper changes for the little one, and providing the mom with the flexibility to either participate in the festivities or still maintain a professional appearance for work or other daily routines as needed."
Kmart couldn't be more thrilled with the offerings. "These cute and clever designs offer the absolutely perfect choice for moms who have a busy schedule, but also want to share the Halloween holiday and bond with their little one in a unique way," comments Candice Kirk, Merchandise Buyer for Kmart. "The costume line – available as 'sold-separately' combo options for moms/kids – deliver themes that are colorful and highly original. We expect them to be a big hit and attention getter with our Kmart shoppers this fall season."
The Mommy & Me line featured at Kmart is affordable – ranging from just $15.99 to $25.99, and can be ordered online or in-store at participating Kmart stores across the U.S.
Most importantly, moms will be able to NAIL the best Halloween photo opp this season to post on Instagram, and Pinterest without the usual hassle of a big sewing project.
For more information on the 2017 Mommy & Me Halloween Costume line, please visit http://www.Kmart.com.
Press contacts:
Jennifer Spoerri
BrandEcho Communications
Jennifer@BrandEcho(dot)com
415-563-2363
Jamie Douglas
BrandEcho Communications
Jamie@BrandEcho(dot)com
310-363-2772