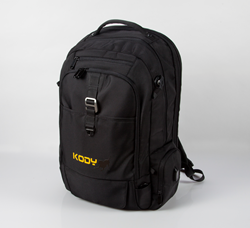 The Kody backpack has everything for people on the go and was designed for all types of people.
Charlotte, North Carolina (PRWEB) September 25, 2017
SmoothVu Inc. launched its latest crowdfunding project today on Kickstarter with a funding goal of $7,500. Featuring a backpack that includes a variety of tech and outdoor needs, Kody is perfect for consumers who are constantly on the go by providing a USB port, wireless Bluetooth speaker, padded laptop storage area and more.
"The Kody backpack has everything for people on the go and was designed for all types of people," said creator Bob Gruder. "I was a graduate student, I hike and am now an executive. I travel a lot. I was tired of settling on backpacks that were all essentially the same, and with nothing really that innovative."
Kody offers 14 useful features for consumers at work or play, including insulated pockets, a power bank, rain tarp, hydration grommet for a tube going out or electronic wires going in, flashlight, RFID protected pocket (large enough for a wallet), sunglass pocket, spork, hidden pocket, and extra padding on the straps and back.
The USB port and power bank are a highlight of the Kody backpack. Kody provides a port and cable to connect to a 5,000 mAh power bank. Another useful on-the-go feature is the insulated pocket which keeps beverages hot or cold and fits 16-inch or 10-inch bottles. For those who are hungry while on the move, Kody conveniently provides a spork for those last minute food outings or forgetful moments.
Along with the padded laptop area, Kody provides a neoprene laptop carrying case for additional storage and protection. The laptop storage area is large enough for an 18 inch laptop screen, ideal for gamers or artists.
Kody is available on Kickstarter today at an early bird price of $129. For more information on Kody, visit the campaign at bit.ly/KodyBackpackKS.
About SmoothVu Inc.
SmoothVu Inc. launched its first crowdfunding campaign, SmoothVu all-in-one smartphone stabilizer, on Kickstarter in May 2017. No strangers to the tech industry, Bob Gruder and Andy Peacock create their products such as SmoothVu and Kody for consumers with an on the go and adventurous lifestyle. For more information about SmoothVu Inc. and Kody, visit bit.ly/KodyBackpackKS.