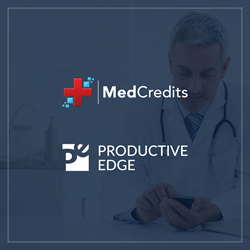 We are tremendously excited to be working with the MedCredits team on this transformative platform
Chicago, IL (PRWEB) September 25, 2017
Productive Edge announces the addition of MedCredits to its Blockchain Incubator. Launched earlier this year, the Blockchain Incubator is designed to identify promising blockchain projects and devote its seasoned development team to bringing those projects to market.
"Blockchain technology has the ability to transform the way business is conducted in nearly every industry. Our goal with the Blockchain Incubator is to identify blockchain projects with the strongest vision, expertise and team, and combine that with our full-suite development solutions at Productive Edge," says Managing Partner, Wyatt Kapastin. MedCredits is the third project joining the Incubator which already supports Foreground and The MKT.place.
MedCredits is creating a decentralized healthcare platform for medical services. "The heart of medicine is in the patient-doctor encounter. Everything else should aim to optimize that encounter." says James Todaro, MD, cofounder of MedCredits. "By offering real medical services, MedCredits lies closest to the source of healthcare data--that is, the patients and doctors."
MedCredits' first mission is to build a full-service telemedicine platform. Dermatology will be the first medical service launched on the platform. "The beauty of starting in teledermatology lies in its simplicity," says Dr. Moshe Praver, MD, cofounder of MedCredits. "A patient can take a photo of their skin problem and be evaluated immediately by doctors worldwide." Following dermatology, MedCredits will expand its telemedicine services to include other specialties. As the platform grows, enormous volumes of patient data will be generated. MedCredits will allow patients to own this data. "Through this process, MedCredits will ultimately become both a unified healthcare service application as well as an electronic medical record system."
"We are tremendously excited to be working with the MedCredits team on this transformative platform," Mr. Kapastin concluded. The MedCredits team aims to have a product available for testing in Q1 2018.
About Productive Edge
As a Digital Transformation Consultancy, in addition to Blockchain, Productive Edge specializes in Enterprise Custom Software, Modern Mobility, Artificial Intelligence, Cloud, Digital Experience, and Virtual and Augmented Reality solutions. The firm's portfolio spans a variety of verticals, including many Fortune 1000 clients in the Healthcare, Retail, Financial Services, and Sports and Entertainment industries.
Connect with Productive Edge today for a complimentary Blockchain consultation:
services(at)productiveedge(dot)com
312-561-9000
About MedCredits, Inc.
MedCredits is the brainchild of two Ivy League trained US medical doctors, who received their medical degrees from Columbia University, College of Physicians and Surgeons in New York City. The team consists of doctors, dentists, a Wall Street trader, engineers and software developers. The founders of MedCredits have been actively engaged in cryptocurrency and blockchain technology since 2013.
Visit MedCredits at https://medcredits.io or connect with the team: contact(at)medcredits.io