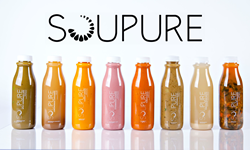 (PRWEB) September 25, 2017
Soupure was selected by SeedInvest, a preeminent equity crowdfunding platform that has historically only accepted approximately 1% of those companies to feature on the platform. The company is looking to expand their successful Soup Cleanse and Grab and Go Nutritious Soup offerings business. More information is below on this announcement. Please let me know if you'd like to set up an interview and/or would like samples.
Soupure (http://www.soupure.com), the purveyor of natural, whole food based soups in a convenient grab-and-go format, is looking for investors as they prepare for expansion. The company was selected by SeedInvest, a preeminent equity crowdfunding platform that has historically only accepted approximately 1% of those companies to feature on the platform. Further, Soupure will be the very first Food & Beverage company to run a campaign on SeedInvest's platform.
Soupure has spent the last year focused on building their infrastructure so they can scale to a national footprint, including a sustainable e-commerce platform, an experienced management team, and a secure co-packer infrastructure and strategy. "It's thrilling to be part of the dynamic Food & Tech category and we're poised for explosive expansion " explains Jesse Langley, CEO of Soupure. "Soupure is on a mission to redefine how we think of food, bringing together whole food nutrition with the form factor of a convenient grab and go bottle. We believe this is big part of the future of food and a great solution for today's active consumer."
Over the last ten years there has been a consumer shift to functional foods that offer natural and organic ingredients to promote total body wellness while fueling an active lifestyle. Soupure was created by a collaboration of nutritional experts, physicians, epicureans, and culinary artists to offer superior flavor profiles packed with locally grown and organic ingredients and a host of nutraceutical properties.
Why Soupure?
Uses over 100 Whole Food Ingredients
Fiber-rich
Made with Organic Ingredients
Reduced Sodium
Dairy-Free
Preservative-Free
Non-GMO
No Added Gluten
Langley explains that Soupure is introducing a differentiated and well timed offering, "Every great visionary brand has brought to market a disruptive idea that changed the way the world consumes and interacts with that product from that moment forward. We believe that Soupure is bringing a valuable and timely disruption to the marketplace to make a positive and memorable impact on the quality of lives, one soup at a time."
Soupure currently offers whole food products across four categories: Gently Cooked Soups, Raw & Cold Sou-thies, Bone & Vegan Broths, and Alkaline Waters as well as 1, 3, and 5 day solution-driven cleanses.
About:
Soupure is an up-and-coming whole food brand of grab and go products that truly believes food is medicine. With this core philosophy guiding every aspect of the brand, the products are designed around a better and easier way to get the most from natural foods and to eat clean. All in a grab and go bottle packed with colorful superfoods that include everything you need to feel and look great. Their artisanal offerings are created by nutrition experts and culinary artists to showcase the robust flavors of locally grown produce and organic ingredients with flavors that dance on your palate. The seed of Soupure was born to be bottled. For more information on Soupure, please visit http://www.soupure.com, and for more information on Soupure's SeedInvest campaign visit https://www.seedinvest.com/soupure/seed.
Van Soups, LLC is offering securities under Regulation CF and Rule 506(c) of Regulation D through SI Securities, LLC ("SI Securities"). The Company has filed a Form C with the Securities and Exchange Commission in connection with its offering, a copy of which may be obtained at https://www.seedinvest.com/soupure/seed.
Chelsea P. Gladden
Corporate PR Branch Manager
ChicExecs Brand Strategy
820 Los Vallecitos Ste A-C
San Marcos, CA, 92069
C 310.569.6586
http://www.chicexecs.com
chelsea(at)chicexecs.com