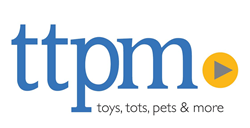 #TTPM Unveils Most Popular Toys, Pet Products, and Play Trends for 2017
NEW YORK, NY (PRWEB) September 26, 2017
TTPM®, the leading review site for toys, tots, pets, and more, unveiled its 2017 Most Wanted List today at the annual TTPM Holiday Showcase, naming the 20 toys the TTPM editorial team predicts will be the most popular—and buzzed about—for the holiday season. From products featuring notable entertainment characters and the latest advancements in tech to standout classic toys and innovative preschool playthings, the TTPM Most Wanted List reflects the current trends dominating the toy aisles.
The TTPM Holiday Showcase is an exclusive, one-day press event highlighting the best-of-the-best in the toy, entertainment, and pet categories. More than 70 family-friendly exhibitors showcased their hottest products with hands-on play, larger-than-life props, and interactive brand activities. This year's event also included an entertaining pet fashion show featuring some of social media's popular #DogsofInstagram modeling pet couture, gear, and Halloween costumes. Attendees included more than 250 members of the press, analysts, bloggers, YouTube channels, and social influencers.
"This year's Most Wanted List includes a wide cross-section of the toy industry in 2017," said Chris Byrne, executive vice president and content director, TTPM, aka The Toy Guy®. "The toys on the list feature contemporary technology and favorite characters to reflect today's world. At the same time, the core experiences they deliver represent the best in classic play with timeless social, developmental, and learning benefits for kids."
"We look at more than ten thousand toys and products per year and post video reviews on five thousand of those," said Jim Silver, CEO and editor-in-chief for TTPM. "This year's Most Wanted List features several toys with higher price points than in past years. We see a clear indication that consumers are willing to spend more on toys, if they see the play value in them."
#TTPM Experts Reveal Most Wanted List of Must-Have Toys This Holiday
TECHNOLOGICAL INNOVATIONS FOR PRESCHOOLERS
Toymakers combine tech with favorite preschool characters to create an active learning experience and help kids develop important educational skills. The most sought-after preschool items include Doc McStuffins Baby All-in-One Nursery from Just Play, PAW Patrol My Size Lookout Tower from Spin Master, and Imaginext DC Super Friends Batbot Xtreme from Fisher-Price.
CUTTING-EDGE TECH ENHANCES CLASSIC PLAY PATTERNS
Nurturing, gaming, storytelling, and communicating are timeless play patterns. In 2017, many of these experiences are also driven by advanced technology. This holiday's hottest tech items include Luvabella, Luvabeau, and Hatchimals Surprise from Spin Master, Teddy Ruxpin from Wicked Cool Toys, Barbie and Her Dreamhorse from Mattel, and Fingerlings from WowWee. For the more advanced techie, top products include KidiBuzz from VTech, DropMix from Hasbro, LEGO Boost from LEGO, and Nintendo Switch from Nintendo.
STAR WARS CONTINUES STRONG ON TOY SHELVES
It's the biggest movie franchise in the history of the toy industry, and it completely transformed toys and play. With Star Wars: The Last Jedi releasing on December 15, the juggernaut continues with toys for kids and collectors of all ages. Top toys include Star Wars: The Last Jedi The Black Series Rey (Jedi Training) Force FX Lightsaber from Hasbro, Star Wars Droid Inventor Kit from littleBits, and Star Wars Hero Droid BB-8 Fully Interactive Droid from Spin Master.
THE ENDURING POWER AND RELEVANCE OF BASIC PLAY
Manufacturers offer simple, yet addictive, "repeat play" toys this holiday season. Top picks include Pikmi Pops and Oonies Inflator Starter Pack from Moose Toys, L.O.L. Surprise! from MGA Entertainment, Hot Wheels Super Ultimate Garage from Mattel, and Nerf Nitro MotoFury Rapid Rally from Hasbro.
In addition to the annual Most Wanted list, TTPM announced the Most Wanted List by Product Category, which names the outstanding toys and entertainment products across 17 major toy categories so parents and gift givers can easily shop based on their children's interests. For pet parents and animal lovers looking for the perfect gift, the TTPM team revealed the TTPM Pet Awards honoring the best pet toys and gear from 2017.
About TTPM
TTPM® is a leading product review site and retail portal for toys, tots, pets and more. With more than 10 million monthly views of its comprehensive video reviews, TTPM is the number one resource for consumers seeking to find and easily buy the best toys, baby gear, pet toys, kids electronics, and sporting goods for their families. The site's expert team creates more than 5,000 independent reviews annually, each featuring the TTPM Price Check, which lists live price comparisons and one-click purchasing from major retailers.