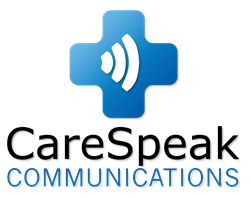 From the moment we started building our platform, we did so with security and privacy in mind. - Kresimir Nesek, Chief Technology Officer, CareSpeak
Somerset, NJ (PRWEB) September 26, 2017
CareSpeak Communications (http://www.carespeak.com), a leading provider of digital messaging services to the healthcare industry, is excited to announce it's CareSpeak Mobile Health Manager and supporting infrastructure hosted at Connectria have earned Certified status by the Health Information Trust (HITRUST) Alliance. CareSpeak is one of the first digital health messaging companies to earn this certification putting it in an elite group of organizations worldwide that have done so.
"From the moment we started building our platform, we did so with security and privacy in mind," commented Kresimir Nesek, Chief Technology Officer at CareSpeak. "Achieving HITRUST CSF Certification validates this approach and our commitment to security, as it's the benchmark that organizations with protected health information use when evaluating digital health companies to work with."
HITRUST CSF Certified Status confirms that the CareSpeak and its Mobile Health Messenger Platform meet key healthcare regulations and requirements for protecting and securing sensitive protected healthcare information. By including federal and state regulations, standards and frameworks, and incorporating a risk-based approach, the HITRUST CSF helps organizations address these challenges through a comprehensive and flexible framework of prescriptive and scalable security controls.
"Achieving HITRUST CSF Certification is a major milestone for CareSpeak," noted Serge Loncar, Founder & CEO of CareSpeak. "During this period of rapid growth for CareSpeak its important to demonstrate to our clients that our commitment to security and privacy is unwavering, and HITRUST CSF Certification certainly does that."
"The HITRUST CSF Certification has become the gold standard of protection against which organizations required to safeguard personal health information are measured," said Ken Vander Wal, chief compliance officer at HITRUST. "By taking the steps necessary to obtain HITRUST CSF Certified status, CareSpeak has distinguished itself as a company their customers and patients can count on to keep their personal information safe."
About CareSpeak
CareSpeak Communications, through its intelligent health messaging, provides patients with an effortless way to manage their health, powered by an advanced digital health platform. The HIPAA compliant and HITRUST certified platform provides patient acquisition & engagement, medical therapy adherence, and care coordination solutions to global health insurers, pharmaceutical companies, pharmacies and specialty pharmacies as well as clinicians at some of the leading medical centers. CareSpeak Communications is a privately held company, headquartered in Somerset, New Jersey. Visit http://www.carespeak.com for more information. Follow us on Twitter (@CareSpeak), Facebook, or Linked-in.