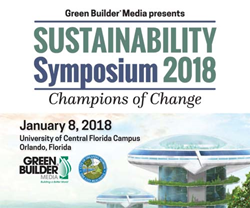 Lake City, CO (PRWEB) September 26, 2017
Green Builder Media, Mayor Dyer, and the City of Orlando are joining forces to host the Sustainability Symposium 2018: Champions of Change, planned for January 8, 2018 at the University of Central Florida campus in Orlando, Florida.
The event will directly and honestly confront the reality of climate change—the challenge of our generation, and the opportunity of a lifetime.
With battering hurricanes and raging wildfires from coast to coast, it has become clear that playing the long-game relative to climate action is no longer a viable solution. It's much too late to be conservative.
The blueprint for a sustainable future is unmistakable: transition to 100% renewable energy and non-polluting vehicles, eliminate the burning of fossil fuels for fuel and energy uses, mandate resiliency and efficiency in homes and buildings, place a tax on carbon and other pollutants, remain wholly committed to the Paris Agreement, facilitate business practices that lead to emissions drawdown and environmental regeneration, and ramp up public education.
The Sustainability Symposium 2018: Champions of Change will delve into these vital topics, offering bold ideas for meaningful action.
Our world-class line up of speakers will provide real-life information from projects they are spearheading in the areas of smart cities, renewable energy, advanced technologies, intelligent water, and more. Don't miss the opportunity to learn from genuine Champions of Change, including:

Paul Hawken—considered to be one of the fathers of the sustainability movement, Hawken's most recent book, Drawdown, offers a comprehensive plan for reversing global warming with specific solutions for tackling climate change.
Jeremy Rifkin—economist, futurist, and author of The Zero Marginal Cost Society and The Third Industrial Revolution, Rifkin is working with leaders in the U.S., European Union, and China to implement comprehensive local and national sustainability plans to mitigate climate change. Rifkin believes that buildings are the key to transforming our current energy and economic paradigm—he considers them to be the 'nodes' for smart technology, connectivity, and renewable energy.
Governor Martin O'Malley—back for a second appearance, O'Malley will unveil his innovative plan for taking the U.S. 100% renewable by 2050.
If you'd like to take part in developing an actionable plan for developing smart, clean, efficient, and resilient solutions, please join Green Builder Media and the City of Orlando, along with visionary sponsors Ingersoll Rand, Emerson, and OUC as well as key industry groups RESNET, International Code Council, USGBC Florida, Florida Green Building Coalition, and the National Association of Real Estate Editors, for this groundbreaking event.
The Early Bird discount ends this Friday, so visit http://www.greenbuildermedia.com/champions-of-change-2018 to register today! Enter the code EarlyBird to receive a $100 discount.
Want to learn more about attending or sponsoring the Sustainability Symposium 2018: Champions of Change? Contact Sara Gutterman at sara.gutterman(at)greenbuildermedia.com for more information.
About Green Builder Media
Green Builder® Media, LLC is the nation's leading media company focused on green building and sustainable living, affecting positive change by providing inspirational information to over 200,000 progressive building professionals and millions of consumers who are interested in sustainable living. With a comprehensive suite of content marketing, digital, social, and print media options, high-profile demonstration projects, market research, and live events, Green Builder Media offers a blend of visionary and practical information covering a broad spectrum of sustainable living topics, including Internet of Things, smart home technologies, energy efficiency, water conservation, indoor air quality, resilient housing, renewables and clean transportation. For more information, visit https://www.greenbuildermedia.com.