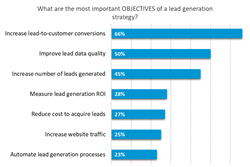 Increasing lead-to-customer conversions is a most important objective for two-thirds (66%) of B2B marketers developing a lead generation strategy.
Denver Technology Center, CO (PRWEB) September 26, 2017
VisitorTrack, in partnership with Ascend2, recently fielded a survey to a panel of research subscribers, as well as marketing influencers. The results detailed in the report exclusively represents the opinions of the 116 marketing influencers completing the survey who are dedicated to the business-to-business marketing and sales channel.
According to the research survey, the number one objective for marketers, by a significant margin, is to increase lead-to-customer conversions. However, fewer than half indicate their lead generation strategies are successful when it comes to reaching their top objectives.
When asked about the key takeaway from this research survey, Todd Lebo, Partner and Chief Marketing Officer, of Ascend2 had this to say: "Marketers know to focus on quality over quantity of leads. But how do you define quality? Increasing lead-to-customer conversions is a most important objective for two-thirds (66%) of B2B marketers developing a lead generation strategy. And a critical factor in achieving higher conversion requires improving the quality of lead data."
The evolution of data science is pushing digital marketers to rethink their business-to-business lead generation strategies and revise some of their tactics to capture top quality sales leads. One of the more significant shifts that marketers see taking place, is that technology for intent monitoring is driving prospect visibility at the front of the B2B buying cycle.
"We have been at the forefront of intent monitoring technology for years," states Christopher Jeffers, CEO of netFactor. "Our core solution, VisitorTrack, is uniquely engineered to offer sales and marketing professionals an advantage by identifying top prospects early in the buying cycle through anonymous website visitor tracking technology."
With the use of anonymous website visitor identification and tracking technologies, like VisitorTrack, marketers can better interpret intent signals by gaining a deeper understanding of their B2B buyers' digital body language. Once marketers have this kind of data, they can fuel their lead generation programs with more of the high-quality leads, thus increasing lead-to-customer conversions.
"We've seen a big change in the level of market awareness when it comes to anonymous web visitor identification technologies," says Jeffers. "As it has become increasingly prevalent, we are now closely watching how this technology influences the outcome for companies that leverage it to meet their top lead generation challenges."
About netFactor
netFactor Corporation provides a suite of products to drive new levels of sales performance from Internet marketing for the Business-to-Business market. The company's core VisitorTrack technology platform and APIs integrates web analytics, business intelligence and marketing automation into a powerful SaaS application for lead generation from anonymous visitor tracking – it's like "Caller ID for Your Website®." netFactor is privileged to serve customers and resellers across multiple industries including software, telecom, healthcare, technology, financial, professional services, manufacturing, and transportation. For more please visit http://www.netFactor.com.
About Ascend2
Marketing technology companies and digital marketing agencies partner with Ascend2 to reliably generate demand and supplement content for their firms. Our Research Partner Programs are transparent – spotlighting your brand and the interests of your market. If marketing professionals are your ideal prospects, we can help you find more of them. Learn more about Ascend2 at http://www.ascend2.com
# # #
Media Contact
Clair Fall
(720) 489-5534
clair(dot)f(at)netfactor(dot)com