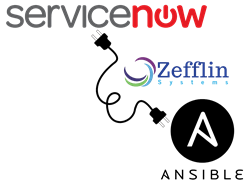 As adoption of automation increases, many IT organizations are looking to standardize on a single service catalog while reducing cycle time of the application deployment process," said Sam Melehy, Zefflin's CEO. "This integration of ITSM and Automation market leaders (ServiceNow and Ansible respecti
San Diego, CA (PRWEB) September 26, 2017
Adding another DevOps plugin to its product portfolio, cloud automation and DevOps solutions firm Zefflin Systems today announced the release of its ServiceNow® Plugin for Red Hat® Ansible. Drawing on its expertise in DevOps, automation and IT service management, Zefflin developed the plugin to automate and control the entire request management and deployment process by tightly integrating ServiceNow and Ansible.
Zefflin's ServiceNow Plugin for Ansible provides automation of the application deployment process and/or the DevOps environment so you can provision applications faster and control the process through ServiceNow. The plugin tracks changes, updates the Configuration Management Database (CMDB) and ensures complete ITIL-compliant auditability. The plugin helps IT operations easily map services to infrastructure for automatically deployed environments.
Service Request Management Using the Zefflin ServiceNow Plugin for Ansible:
The current state of request management can be manually intensive and relies heavily on email. It's inefficient, time-intensive and not auditable. Zefflin's ServiceNow Plugin enables DevOps with ServiceNow integration by establishing:

Standardized development architectures
An effective routing approval process
An ITIL-compliant audit framework
Faster deployment
An automated process that frees up your team to focus on other activities.
To demonstrate Zefflin's ServiceNow Plugin in action, let's set the scene. A developer goes to ServiceNow Catalog, selects a flavor of development environment from the approved list and the request is routed for approval in ServiceNow. ServiceNow Orchestration is then invoked and connects to Ansible. Ansible provisions the infrastructure on any cloud platform (i.e., AWS, Azure, OpenStack, VMWare, bare metal) and deploys the application by:
Allocating storage
Provisioning the operating system (e.g., Windows, Linux)
Applying networking policies and configuration
Provisioning the database
Deploying the application and connecting the app to the database
Installing monitoring agents and connecting the new app to the monitoring infrastructure.
Ansible goes back through Orchestration to update the CMDB while opening a change request, ensuring full ITIL-compliant auditability. Ansible closes the service request in Request Management and the new environment is ready to go. With this integration, Zefflin helps take the request-to-deployment cycle from days or weeks to minutes.
About Zefflin
Zefflin is a ServiceNow Sales and Services Partner and a Red Hat Advanced Business Partner with a combined 26 accreditations in CloudForms, OpenShift, Ansible and Ceph Storage. Our focus is on Datacenter Automation, Private Cloud and Hybrid Cloud solution implementation and integration. We offer advanced, cost effective solutions to our customers in the areas of request/catalog management, automated provisioning (OS, application, database, storage, and network), policy governance and compliance for the entire computing infrastructure.