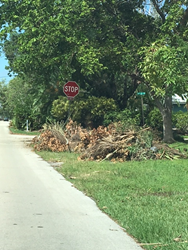 Our local municipalities don't have the resources to clean up this unprecedented amount of debris on almost every curbside, so I believe it is our civic duty to help remove and recycle what we can.
Fort Lauderdale, Florida (PRWEB) September 26, 2017
Fourteen days after Hurricane Irma hit Florida; millions of piles of debris still litter curbsides of most homes across the entire state of Florida. According to a Sun Sentinel article dated September 19, 2017, it is estimated that there is over 3 million cubic yards of debris across Palm Beach County. It is estimated that there is about the same amount or even more debris across Broward County. The cleanup of these vegetative piles of debris alone will take months to completely remove and cost hundreds of millions of dollars across the State. The fact is, local Municipalities and Counties do not have the resources to clean up after Irma in a timely fashion. Local Officials are either just getting or still waiting for Federal Emergency Management Agency, (FEMA) assistance to clean up the millions of piles of debris left behind. The other problem is, that as weeks and months go by these vegetative piles can create rodent infestations, other pest control issues, and have the potential to go airborne if another hurricane hits Florida any time soon. There is also an increased potential for many kinds of accidents long after hurricane Irma.
Thursday, September 28th in an initiative to clean up and recycle vegetative debris left behind at Coloney properties after hurricane Irma. Sales Associates with COLONEY REAL ESTATE and RELATED ISG are volunteering alongside local construction companies SCOTT DOUGLAS HOMES, ROCK SOLID HOME BUILDERS, GRADING PRO, RICK HAMMON & SONS DEMOLITION, FELIX TREE SERVICE and LIFE'S TREE DOCTOR to get the job done. Scott Douglas Homes will be temporarily converting two of its vacant development sites that are pending permits into drop off sites where Felix Tree Service and Life's Tree Doctor will be chipping the vegetative debris into wood chips or "mulch". The treated mulch will be given away to local residents and made available through Related ISG Associates located at Broward Blvd and Federal Hwy. Associates with Coloney Real Estate and Related ISG will also be volunteering throughout the day to help pick up and load debris. Rock Solid Home Builders, Grading Pro and Rick Hamann and Sons are providing drivers as well as a large dump truck, a bob cat, pickup trucks and trailers to haul away the debris. Coloney Management is also committed to use the Hurricane Irma mulch at its properties in the coming weeks.