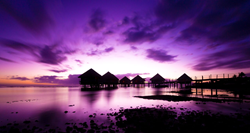 (PRWEB) September 26, 2017
Noble Studios has launched a new website for the iconic destination of Tahiti. The website at http://www.tahititourisme.com, is The Islands of Tahiti's official country tourism website (Tahiti Tourisme). The work includes a redesign and content refresh that's in keeping with the new global marketing campaign currently underway for Tahiti.
The new campaign features a refreshed brand platform for the country that focuses on the spirit of Mana, the life force that's deeply infused in the islands. The new site gives Tahiti stakeholders significantly more control over content while providing an updated, responsive user experience for potential visitors to these far-flung islands in the South Pacific.
Noble's overarching goal was to capture the essence of Tahiti and the varying personalities of its 118 islands while extending The Islands of Tahiti's updated brand into a newly redesigned website. The site would be used to promote the destination across 18 different countries. Noble also sought to educate potential visitors about the lesser-known islands where visitors can experience authentic Polynesian living off the beaten path.
"Noble Studios brought new ideas to the table that allowed us to better connect with potential visitors to The Islands of Tahiti," said Paul Sloan, CEO of Tahiti Tourisme. "We are going after new markets and reintroducing our destination to many audiences such as millennials or families that might not have imagined what a trip experience was like to our islands. We are proud of our work and look forward to continuing our focus on digital marketing with Noble in the future."
After a year of extensive planning, research and stakeholder input, Noble conducted a complete website overhaul, expanding Tahiti Tourisme's digital presence into a responsive, inspirational, storytelling experience that supported the tourism board's mission while bringing the destination and its unique culture to light. The site was then taken through an extensive search engine optimization (SEO) process to gain additional exposure to potential visitors at various stages of the buyers' journey, allowing for a more personalized planning experience for those considering a trip to The Islands of Tahiti.
"Working on this project really helped us sharpen the tools we use for top Destination Marketing Organizations," said Noble Studios CEO and founder Jarrod Lopiccolo, who recently traveled to Tahiti to unveil the site to country representatives. "By listening to the needs of stakeholders and prospective visitors, we were able to deliver a site that exceeds expectations across the board and positions the region well against the competition."
Tahiti Tourisme is the Polynesian country's official destination marketing organization (DMO). According to latest official government statistics, The Islands of Tahiti attracted more than 192,495 visitors in 2016, an increase of 17% in 3 years, and tourism remains the #1 industry of the country's economy. Visitation is increasing in part to the growing visibility and popularity of the destination. Additionally, the destination consistently ranks in the top lists of exceptional destinations and beach vacations from publications such as U.S. News & World Report, TripAdvisor, and Travel + Leisure based on The Islands of Tahiti's well-earned reputation for being one of the world's most beautiful locations.
The DMO chose Noble Studios for its deep experience in the travel/tourism vertical. Noble has previously created award-winning and notable sites for popular travel destinations such as Yosemite National Park, Santa Monica, Newport Beach and South Lake Tahoe.
About Noble Studios
Noble Studios is a digital marketing agency specializing in web, mobile and social media. Since 2003, the company has completed work for international brands such as Autodesk, Lake Tahoe Visitors Authority, Easton, Google, Yosemite/Mariposa County, Newport Beach & Co., Santa Monica Travel and Tourism, University of California, and more. For five years running, Inc. magazine has recognized Noble Studios in its annual Inc. 500|5000 list of the nation's fastest-growing private companies. In 2014, Noble Studios was recognized as Nevada's Small Business of the Year by the U.S. Small Business Administration. Noble Studios also is an approved Google Analytics Certified Partner (GACP) and Premier Google Partner. Follow Noble Studios on Facebook, Instagram, LinkedIn and the Think Tank Blog.