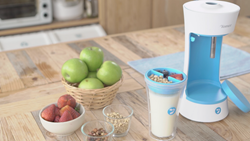 Yomee is based on the idea that making healthy yogurt at home can be easy, convenient, and waste-free.
New York, NY (PRWEB) September 26, 2017
Today the Lecker Labs launched Yomee, a 100% soluble pod-based device that makes homemade Yogurt in only three steps. It is now available for $99 USD on Kickstarter (retail price $149 USD).
The device takes up less space than a coffee maker and simply consists of an automated mixing stand, dishwasher safe yogurt cup, and functional jar lid that can hold two separate toppings.
Yomee is based on the idea that making healthy yogurt at home can be easy, convenient, and waste-free. It utilizes a 100% soluble pod that contains organic milk powder, yogurt cultures, and optional flavors.
Users can make plain, stirred, or Greek yogurt. Vegan yogurt can also be made using soy milk and a Yomee pod that contains rice milk powder instead of dairy. Free of any artificial sugars, users have the option to add additional sweetener to the milk, if they wish.
"Some store-bought yogurt has more sugar than a Twinkie," said Ashok Jaiswal, Yomee founder and CEO. "Not to mention many have added stabilizers, gums, thickeners, artificial flavors, as well as a lack of healthy active cultures. Yomee eliminates all this and gets back to yogurt's roots—as a real, simple food full of health benefits."
To make yogurt, users pour their chosen milk into the Yomee cup, insert a pod, and press the start button on the device. In six hours, they have a 10oz batch of all natural, probiotic-packed yogurt chilled to 50°F.
The Yomee app syncs directly to the device. The app keeps track of the yogurt making process and alerts users when the yogurt is finished heating, cooling, incubating, and ready to eat. Users can use the app to select the style of yogurt they prefer and find yogurt-based recipes. The Yomee pods are also ordered via the app.
"The inspiration for Yomee started in early 2016, I was sipping on a mango lassi at a friend's dinner party," said Jaiswal. "I asked if the lassi was made with homemade yogurt and was surprised to find the reaction from everyone; they wondered how yogurt could be made at home. I was then determined to learn more about real homemade yogurt and began making it for family and friends."
Relying on standard at-home yogurt incubators, Jaiswal found it increasingly difficult to get consistent and reliable results year round. Many sketches later, and after hacking a common hot plate to both stir and heat the milk, the first working concept for Yomee was born.
"We love convenience, but that doesn't mean we should sacrifice our health, or the health of the environment with wasteful single-serving cups," said Kim-Nam Fung,Yomee Financial & Legal Controller. "Yomee makes it easy to have all of the above."
Yomee will be available September 26 for $99, which includes one month of Yomee pods. For a full rundown of pledges, visit their Kickstarter page. The estimated delivery date is May 2018.
Media wishing to interview their personnel should contact PR agent, Borjana Slipicevic.
Media Contact
Borjana Slipicevic
Proper Propaganda
(778) 858 2595
borjana(at)properpropaganda(dot)net