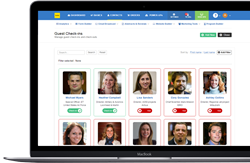 One stop shop for everything you need. There is a good balance between control over individual things (emails, website, etc) w/o overwhelming complexity. - Mark Severs, Operations Director, Organ Preservation Alliance
New Castle, Delaware (PRWEB) October 12, 2017
For many years now, university event organizers have been using a smorgasbord of tools viz. WordPress, Eventbrite, Easychair and Mailchimp to manage their events & conferences with each having its own set of data with no way to map them.
For example, an author who submitted an abstract using Easychair would need to pay the submission fee using Eventbrite. But since these two systems are not mapped and integrated with each other, it becomes very tough to find out who submitted the abstract and who paid! Furthermore, there's a lack of precise reporting, the obvious need to use multiple dashboards to manage these information, and above all, paying for each of the platform that is being used to manage the event.
So, what would it be like if event organizers are able to use these tools from a single platform, all fully integrated with one another, making for a seamless, unified data flow. This is exactly the pain point Dryfta is trying to solve.
Dryfta event platform unifies and integrates event data across the platform. Here're some of the benefits of managing events with Dryfta:
Send out invitations - Use Email Broadcast tool to send email campaigns, send emails to selected contacts, view campaign reports etc.
Abstract submissions & Peer reviews - For academic conferences which are accepting abstract submissions and call for papers, they need an abstract management system. It allows authors to submit abstracts, assign them to reviewers to review them, publish program schedule and finally build an abstract book out of accepted abstracts automatically.
Handle event registration - Form builder is used to create forms with each form having different set of custom fields including file uploads, text fields, multiple choice questions, conditional logic fields etc.
Enable participants to pay fees through credit cards - Choose a payment gateway including PayPal, Stripe, 2Checkout etc to collect payments through credit card. We do not charge any fee on payments you collect.
Follow up with registration issues - Dryfta has event industry's best CRM to manage every details of attendees including user's information, tickets, abstracts submitted and the ability to send private emails to attendees.
Conference website builder - Design event website using beautiful themes. No HTML knowledge required. All it takes is just a few clicks to set up an event website.
Program builder - Create extensive, parallel-running sessions with speakers list for each session, downloadable files, option to add sessions to user's personal schedule etc.
Automated text messages - Send automated text messages on various user actions including registration and order confirmation.
Custom domain - Set up a custom domain for event website to hide Dryfta URL.
Here are the links to some customers' conference websites created using Dryfta:

Dryfta has flexible and affordable pricing along with registrations-based plans. One can also sign up for a free trial account for up to 30 days.