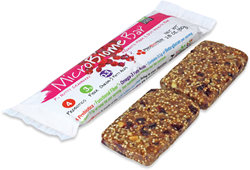 packed with AXOS, FOS, MOS and XOS prebiotic fibers
Walhalla, North Dakota (PRWEB) September 27, 2017
This newest product from Food First LLC just launched at the Natural Food Products Expo East held in September. Leading the new category of gut health bars, the MicroBiome Bar™ is packed with AXOS, FOS, MOS and XOS prebiotic fibers, plus beta-glucans, Omega-3 and protein. The p-nutty cranberry flavor makes the bar a tasty choice, while the sunflower seeds and puffed amaranth give it a fun bit of crunch.
Food First president Bob Thornberg said, "The response to our new MicroBiome Bar™ showed us that people have been looking for a convenient way to get the prebiotic fibers they need daily. And getting it in a pocket-sized bar that's really tasty, is an ideal match for busy people." Each MicroBiome Bar™ has a recommended daily amount of ProBiotein® in it and is made from organic and non-GMO ingredients in Food First's U.S.A. facility in North Dakota.
"We had a chance to taste test our upcoming flavor of Raspberry Apple Almond with people who stopped by our booth at the show. The vote was almost exactly 50/50," said Thornberg. "Everybody liked both bars, but everyone also had their favorite."
ProBiotein® is Food First's proprietary blend of organic wheat, organic oats, organic barley malt, organic flax and nutritional yeast that's fermented, dried and ground so it's easy to add to beverages, smoothies, yogurt, soups and oatmeal. It can be used in baked goods and makes delicious bread when you substitute 1 Tablespoons of ProBiotein for an equal amount of flour. By fermenting the grains, the starches are removed, the proteins concentrated and important amino acids are provided.
Many of the visitors to the Food First booth were health practitioners who were interested in finding products that could benefit their clients. As one of the attendees told Bob Thornberg at the show, "Out of all the products here at the Expo, yours is one that helps people."
About Food First: Based in North Dakota, Food First LLC makes products including the MicroBiome Bar™ and ProBiotein® which give you important prebiotic fibers that are often missing in the American diet. ProBiotein is the key multi-prebiotic fiber and protein blend ingredient in all our products. Our goal is to give you the right foods to help keep your systems operating optimally, so your body and mind can perform their natural best.
Phone 701-549-3864. Email info(at)probiotein(dot)com. http://www.probiotein.com