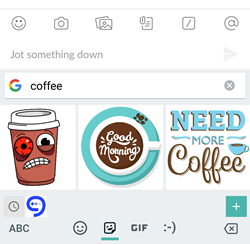 "Starting today, Emogi is sharing its library of original sticker content with Gboard users." - Emogi CEO and Founder Travis Montaque
NEW YORK (PRWEB) September 26, 2017
Emogi announced today that it is teaming with Google as one of the first partners to provide animated stickers on Gboard, the popular Google keyboard which lets users search and share visual content. The Emogi platform reports that animated stickers are 3.6 times more likely to be shared within chats than their static counterparts. Emogi's content enables Gboard users to express themselves with creative, messaging-first stickers featuring a range of emotions, holidays and current events. Stickers in Emogi for Gboard are updated daily so users can share the latest cultural moments and trends.
"Google's decision to integrate stickers into Gboard solidifies the keyboard as one of the smartest and expressive tools people use to message today," said Emogi CEO and Founder Travis Montaque. "Starting today, Emogi is sharing its library of original sticker content with Gboard users. Emogi's content enriches conversations - we're here to help Gboard users express themselves better when text isn't enough. We are excited to join Google in partnership."
"We're thrilled to have Emogi add its library of animated stickers for Gboard users on Android," said Alan Ni, Associate Product Manager at Google. "We look forward to providing users with more compelling, shareable visual content that ultimately improves their experience on Gboard."
Emogi's platform, which smartly integrates emoji, stickers, and GIFs into messaging conversations, now reaches more than 40 million monthly active users through its partnerships with messaging apps. In addition to the new integration with Gboard, Emogi for iMessage and Emogi for Facebook Messenger are available for download.
Emogi for Gboard can be found in the Google Play Store here.
About Emogi:
Emogi is a conversational content platform in messaging that intelligently integrates emoji, stickers, and GIFs to enrich conversations. We create an environment people value by offering contextual content that improves their self-expression. The company was founded by CEO Travis Montaque, who was named to Forbes 30 Under 30 list in 2016 for his work setting the standard for new strategies and tools for brand engagement. For more information on Emogi, please visit http://www.emogi.com.