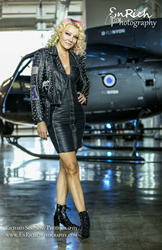 All season I have been looking for a stand out show that would excite me as a photographer. This was it!! Phil Delmazio, Photographer
New York City, September 28, 2017 (PRWEB) September 28, 2017
Editors, photographers, and members of the media were told to meet at the Westside Highway in NYC. An army of FlyNYON helicopters landed and took them all to an undisclosed location 4 minutes outside of NYC, where drinks, dinner, and virtual reality experiences awaited. Malena Belafonte, the founder of The Journey Fashion Festival welcomed everyone along with Patrick Day, the founder of FlyNYON. They introduced their new partnership with the catch phrase "Taking Fashion Week to New Heights," followed by a voice saying "The World is on Fire." At which point a helicopter landed right outside the giant glass enclosed venue and models jumped out wearing nothing but heels, Christian Lacroix Lingerie, and diamonds by KVO Collections... Now that's an entrance that goes into the Fashion Week history books.
And that was just the opening of the show... In addition to Christian Lacroix, designers like Lola Loves Cargo, Henry Picado Men, Este and Chlo, designing artist PopImpressKA along with dancers, acrobats, and singers climbed out of helicopters, onto the smoke-filled runway, making a clear statement about who The Journey Fashion Festival is.
The brain child of Malena Belafonte, daughter-in-law of Harry Belafonte is no stranger to entertainment and entrepreneurial quests. Having been born into show business herself, she performed since she could walk, won silver in Dancing With The Stars in Europe, had record deals, publishing deals, founded a magazine, wrote over 200 published articles, and founded the Speyer Legacy School for gifted children in NYC. And now Malena has created a dream come true for designers who are not afraid to ask for help, yet dare to be different. "The top 2-3% of designers are well taken care of, have their infrastructure, know how and financial backing. The 97% percent below might not have all that is needed to make a splash during Fashion Week. That's where we come in. We come up with show concepts that are so unique and creative, intertwining performers and acrobats into a story line that compliments each designer. I truly believe in standing tall and strong together and in giving the audience an experience that they will remember for a long time. We make it really easy for the designers and all we ask is that they check their egos at the door and are ready to help each other," says Malena Belafonte.
The Journey Fashion Festival will be preparing for their next season, and this is the time for designers, brands and sponsors who are looking to be part of the newest vision within the fashion industry.