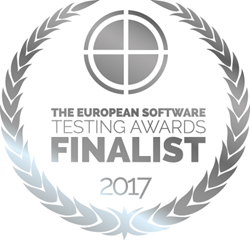 We are very excited to be shortlisted in 2 categories and compete with multibillion-dollar companies from the big leagues.
New York, NY (PRWEB) September 26, 2017
For the third year in a row, QA Mentor, a leading vendor in Software Quality Assurance and Testing, is proud to announce that they've had the privilege of being picked as finalists in the European Software Testing Awards. Started in 2007, these awards are an annual event held in Central London celebrating the very best in the software testing and QA industry. The winners will be announced at the Gala dinner at Old Billingsgate, London on November 21st.
QA Mentor was selected as a finalist in two major categories this year – Leading Vendor and Best Overall Testing Project – Finance.
The first, Leading Vendor, is the most prestigious category where QA Mentor was a finalist for 3 consecutive years and received a special commendation award last year. It's awarded to the vendor who receives top marks for their product or service. Judges look for a commitment to quality, customer satisfaction, and value for money, as well as reliability, flexibility, and speed. All of these qualities are things QA Mentor strives for with each project. Ten other candidates including Cognizant, CA Technologies, Applause are finalists alongside QA Mentor.
The second category, Best Overall Testing Project – Finance is one that QA Mentor is especially proud of. QA Mentor conducted a QA Audit for a financial institution's QA process to identify inefficiencies and outline a transformation strategy with action items to mature the QA Department in its transformation. With QA Mentor's help, the company improved test design and test execution productivity by 40%, decreased defect leakage by 12% and reduced regression testing cycles by 73% with the implementation of an automation framework.
Founder and CEO Ruslan Desyatnikov stated, "We are very excited to be shortlisted in 2 categories and compete with multibillion-dollar companies from the big leagues. It clearly demonstrates that by working hard with enthusiasm, motivation and dedication, listening carefully to our clients, and reacting quickly to customer needs even smaller players like QA Mentor can be noticed and recognized".
While QA Mentor feels just being included as finalists is an honor and wish good luck to all finalists in all categories, they hope to bring home 2 awards from London this year. For more information on list of finalists in multiple categories, please see the official website.
About QA Mentor, Inc.
QA Mentor is an awards winning ISO 27001:2013 and ISO 9001:2015 certified leading independent software testing company headquartered in New York. With 176 global QA resources in 8 different countries offering more than 30 QA Testing Services and covering all time zones, QA Mentor is a global leader in Software Quality Assurance and Testing space. Serving 260 clients from Fortune 500 to start ups in 28 countries, QA Mentor supports applications in 9 different industries. With unique products propositions from a crowdsourcing platform with a pool of 12,000 crowdsourced testers to a test management platform, unique and economical services offerings and QA education from e-learning and corporate training, QA Mentor continues its growth, expansion and footprint around the globe. For more information, visit QA Mentor's web site at http://www.qamentor.com