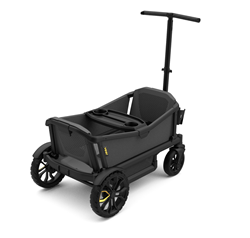 Atlanta, GA (PRWEB) September 26, 2017
Today, Veer debuts the all-terrain Cruiser, a category-disrupting crossover that leverages advances in design, performance and safety to give families new freedom to embark on any outdoor adventure together, activate imaginations, and enrich the bonds between parents and kids. The Cruiser is a cross-over that combines the functionality and safety of a premium stroller with the outgoing fun of a rugged wagon.
Veer knows that kids are curious. They are explorers by nature. Through outdoor activities, we can discover new and fresh ways to look at the world and build family bonds with our children. Which is why the Cruiser is designed to last many years, and accommodate growing families, providing a safe and fun ride for up to two passengers ages 0-5+ years. Veer is designed to bring families together, and to encourage spontaneous adventure.
"Veer is built for fun, adventure and connection. We think about products in terms of what you do through them: imagine, explore and bond together," says Nick McKay, Veer co-founder. "We deeply believe that we live in overly structured worlds; the journey is more important than the destination, and life is lived through the adventures and experiences we share with our children. We want to empower families to become explorers, ready to connect with the outside world and each other at the same time."
The Veer Cruiser is the first in its class to meet all ASTM stroller safety standards and be JPMA certified. It is rugged yet weighs less than many double strollers, and can accommodate up to 110 pounds of precious passenger cargo.
The Cruiser can also be customized with a collection of accessories, including a Nap System and Collapsible Sun Canopy that combine to make a JPMA certified bassinet (and a perfect rest stop for infants), a Drink and Snack Tray, a Foldable Storage Basket for even more cargo capacity, and a Travel Bag to check the Cruiser at the jetway. Up to 6 cup holders provide ample beverage capacity for family adventures and festivals alike.
But best of all, all major brands of infant car seats can attach using an Infant Car Seat Adapter, so even the youngest family members can enjoy the ride along with their older siblings.
The Veer All Terrain Cruiser is:
Built To Last: From infant, to toddler and beyond, The Veer Cruiser grows with your family and can accommodate up to 110 lbs of passenger weight.
All-Terrain Performance: Go off-road with rugged, airless tires and front comfort suspension.
Ultimate Craftsmanship: Aircraft grade aluminum, with single-frame patented wall system make the Cruiser rugged and strong.
Best in Class Safety: Complete with three point harnesses for both passengers. The Cruiser meets all ASTM safety standards, and is JPMA certified.
Versatility: From infant to toddler, it can hold an infant car seat or two toddlers facing each other, or any combination.
Ergonomic: Push or pull, turn, pivot and nimbly maneuver. Swivel wheel steering and telescoping bar with a high-performance handle and grip allow you to comfortably navigate any obstacles.
Stow & Go: Quickly folds flat for easy transportation in small trunks, and can stand upright for easy storage.
The Veer Cruiser can be ordered now at goveer.com. The Cruiser is also available at albeebaby.com, backcountry.com, nordstrom.com, amazon.com and select boutiques nationwide. Veer Cruiser's MSRP is $599.00.
About Veer
Founded by an expert team in the world of premium child mobility products, Veer designs gear with purpose – to empower families to go, explore, and bond through active, outdoor adventures. The brand's first product, The All-Terrain Cruiser, is an innovative crossover that combines the fun of a rugged wagon with the functionality and safety of a premium stroller.
For more information on the Veer Cruiser, please visit http://www.goveer.com