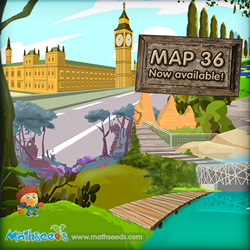 The online lessons are set in different locations where children can apply their math skills to real-world situations.
(PRWEB) September 27, 2017
Young fans, parents and schoolteachers can now look forward to a brand new section in the Mathseeds online math program.
The latest map release, Map 36, includes five interactive new lessons which cover grade 3 math skills and concepts.
Children can join the lovable Mathseeds characters on exciting new quests, like finding angles in the Beijing National Stadium, comparing walking times to reach Big Ben at Westminster Palace, and practicing the times tables in the Madagascan rainforest.
The comprehensive online math program is developed by the same team of elementary educators, animators and writers as Reading Eggs, and now features 180 one-on-one math lessons for children aged three to nine.
The grade 3 math lessons are set in different destinations where children are encouraged to apply their math skills to real-world situations. Children are rewarded for completing tasks and can cement their skills with interactive assessment tasks which provide instant feedback.
Mathseeds can be used on desktop and tablet devices. Parents and teachers can access automated reports, printable worksheets, certificates and bonus resources to support children's learning journey in the program.
The program supports Common Core State Standards for Mathematics, and includes correlation charts which show the scope and range of the Mathseeds lessons across various math domains, standards, content and skills.
New users can sign up for a free trial of Mathseeds online at http://www.mathseeds.com.