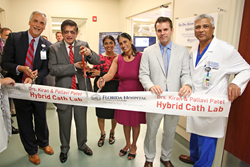 Tampa, FL (PRWEB) September 26, 2017
Florida Hospital Carrollwood cut the ribbon on a new hybrid cath lab, September 21, 2017, named for Drs. Kiran and Pallavi Patel, who donated $5 million dollars to the hospital foundation for this project and the hospital's future Emergency Room project, as well.
This lab utilizes the Next-Generation Philips Azurion Image-Guided Therapy Platform, which allows doctors to see images from cardiac patients in real-time, and, if necessary, the lab can become an operating room for the most urgent cases, such as those brought in by ambulance because of a medical emergency.
The technology also cuts down on radiation exposure to patients and hospital personnel, and speeds up the process for patients to be diagnosed and treated.
Hospital CEO, Joe Johnson, says, "We can do better intervention with live guided processes, so [the lab allows] visualization of even the smallest vessels."
Florida Hospital Carrollwood currently sees 150-200 patients each year for cath lab care, and Johnson says this type of technology will greatly increase the number of people who the hospital can help.
Dr. Patel remarked today that he had the easiest job, to simply sign the check, and went on to say, "The burden now is on all of you (the staff) to utilize this resource to elevate the name of this hospital."
Drs. Kiran and Pallavi Patel began their medical careers at the Carrollwood hospital and have seen it grow from a 10 bed hospital facility with a mobile cath lab, to the one it is today, with 120 beds and state-of-the-art technology such as this.
For more information on the new state of the art hybrid cath lab, please contact Richelle Hoenes-Ahearn, Richelle.hoenes(at)ahss.org, or 941-544-0961.
You can link to video and sound here:
https://www.dropbox.com/s/jhe8khmwn9pmmou/FLORIDA%20HOSPITAL_CATH%20LAB.mp4?dl=0
Additional photos are also attached to this release.
Names in the photo are, left to right:
Joe Johnson, President & CEO of Florida Hospital Carrollwood; Dr. Kiran C. Patel; Dr. Pallavi Patel;
Dr. Sheetal Patel; Tony Laforiga, Exec Dir Florida Hospital Carrollwood Foundation; Dr. Ravi Patel,
Chief of Staff Florida Hospital Carrollwood.
###