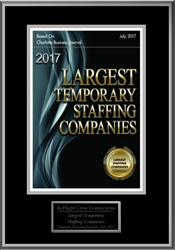 We share this recognition with our talented contract workers whom we're so proud to employ
Charlotte, North Carolina (PRWEB) September 27, 2017
In a recent announcement, Charlotte Business Journal named In-Flight Crew Connections as one of the Largest Temporary Staffing Companies for 2017. The list, compiled by the Charlotte Business Journal, includes Charlotte-area temporary staffing companies, ranked by the number of temps on payroll as of May 2017.
CEO of In-Flight Crew Connections, Jennifer Guthrie, notes the company has been committed to providing a personal touch since the company was founded in 2002. Recently celebrating fifteen years of service, Jennifer stated, "We are proud of our growth and share this recognition with our talented contract workers whom we're so proud to employ. We serve a niche market and our staff members work around the clock to help make our clients' missions possible."
About In-Flight Crew Connections
In-Flight Crew Connections, a global leader since 2002, provides aviation industry staffing solutions for owners and operators of business class jets. Focused on developing customized solutions that meet the unique needs of corporate aviation clients, our range of services include: ONe-Call™ Temporary Crew Services - on demand supplemental staffing for pilots, flight attendants, schedulers/dispatchers, aircraft maintenance technicians and engineers, Payroll Services, Management Service, Recruiting & Placement, International Staffing, and Concierge Services. The company is a privately held WBENC certified women-owned staffing firm headquartered in Charlotte, North Carolina.
To schedule staffing services with In-Flight Crew Connections, call (704) 236-3647. Visit In-Flight Crew Connections online at http://www.inflightcrewconnections.com or follow In-Flight Crew Connections on Twitter, LinkedIn and Facebook.