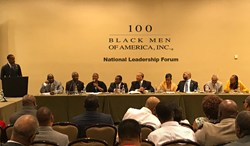 "Our nation is once again at a critical crossroads and we who love our country will continue to stand against divisiveness and work to ensure African American youth and their families share in the American dream."
Atlanta, Georgia (PRWEB) September 26, 2017
Members of The 100 leadership came together in Washington, D.C. during the CBCF 47th Annual Legislative Conference (ALC). As the leading policy conference on issues impacting African Americans and the global black community, this proved once again to be the perfect setting for the installation of new leaders to the board of 100 Black Men of America, Inc. New Constitutional Officers serving for the 2017-2020 term are Chairman of the Board, Thomas W. Dortch, Jr., Vice Chairman, Albert E. Dotson, Jr., Esq., Treasurer, Milton H. Jones, Jr., Secretary, Dr. Mark Alexander, Immediate Past Chairman, Curley M. Dossman, Jr., President Emeritus, Dr. William H. Hayling, General Counsel, Ex Officio, James "Mac" Hunter, Esq., President & CEO, Ex Officio, Brian L. Pauling.
Also serving will be the following members at large and district representatives: Acey Byrd, Bethew "Bert" Jennings, Charles Walker, Rev. Jewett L. Walker, Jr., Michael Victorian, Kolarele Sonaike, William Luster, Marcellous "Mark" Reed, Curtiss Jacobs, Charles Griggs and Stanley Savage. Appointed Board Members include: Vernon Durden Dr. Thomas Parham, Kevin Hill, Kevin Patterson, Aaron Jackson, Jr., Al Sullivan, Dr. Joshua Murfree and Robert Tapley.
"All new board officers embody the spirit of giving back to their communities and mentoring young people," stated Thomas W. Dortch, Jr., Chairman. "Our nation is once again at a critical crossroads and we who love our country will continue to stand against divisiveness and work to ensure African American youth and their families share in the American dream."
The ceremony was officiated by Judge James E. Graves, Jr., U.S. Court of Appeals, Fifth Circuit. The program included remarks by Congressman Hank Johnson and Immediate Past Chairman, Curley M. Dossman, Jr., musical performances by Dr. Sharron Jenkins, spoken word by poet laureate Hank Stewart and inspiring words by Reverend Daryl Kearney, Senior Pastor of Turner Memorial AME Church in Hyattsville, MD.
During their transition of leadership, The 100 simultaneously held their Leadership Ignited For Transformation (L.I.F.T.) Conference, which included the National Leaders Forum, on September 22, 2017. In alignment with the goals of the Annual Legislative Conference, 100 Black Men brought together thought leaders, legislators and concerned citizens to engage on economic development, civil and social justice, public health and education issues.
Sponsored by Wells Fargo, the forum was facilitated by Jeff Johnson and panelists included Ebony Baylor (National Urban League), Melanie Campbell (National Coalition of Black Civic Participation), Clarence E. Cox III (National Organization of Black Law Enforcement Executives), Benjamin Crump (Ben Crump Law), Thomas W. Dortch, Jr. and Albert E. Dotson, Jr., Esq. (100 Black Men of America, Inc.), Dr. Ken Harris (National Business League), Glenda Hatchett (The Hatchett Firm), Dr. Frederick Haynes III (Friendship-West Baptist Church), Holli Holliday (Holliday Advisors), Janice Mathis (National Council of Negro Women), Perry Tarrant (National Organization of Black Law Enforcement Executives), Ebonie Riley (National Action Network), Susan Taylor (National Cares Mentoring Movement), Jesse Tyson (National Black MBA Association), Dr. C.T. Vivian (CT Vivian Leadership Institute). Public discourse between concerned citizens and engaged members of these national organizations and host of others including, but not limited to, American Red Cross, Atlanta Public Schools, Congressional Black Caucus Members, Counter Balance: ATX, Edfit, Greater Peace Community Development Corporation, International Association of Black Fire Fighters, Memphis Academy of Health Sciences, Merrill Lynch, Morehouse College, NetGain Technologies and Wells Fargo Advisors.
About 100 Black Men of America, Inc.
100 Black Men of America, Inc. is a global nonprofit mentoring organization committed to the intellectual development of youth and the economic empowerment of the African American community through promoting the precepts of respect for family, spirituality, justice, and integrity. It began with one chapter in New York City in 1963, incorporated in 1986 and today has more than 100 chapters reaching 125,000 youth in the United States, London, and Turks and Caicos Islands. The 100's motto, "What They See Is What They'll Be," expresses how our programmatic services rendered to disadvantaged, disenfranchised and low-income youth and families positively change their life trajectory. For program and chapter information visit http://www.100blackmen.org
About The CBCF
The Congressional Black Caucus Foundation, Incorporated (CBCF), established in 1976, is a non-partisan, nonprofit, public policy, research and educational institute, committed to advancing the global black community by developing leaders, informing policy and educating the public.
Media Contact
Nesby Ingram, Jr.
404.653.6030
nesby.ingram@100bmoa.org