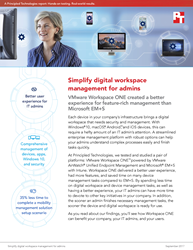 "PT found that VMware Workspace ONE delivered a better user experience, had more features for admins to use, and saved time on many device management tasks compared to Microsoft EM+S."
Durham, NC (PRWEB) September 27, 2017
Each device in an organization's infrastructure brings a digital workspace that needs security and management. Principled Technologies (PT) found that VMware Workspace ONE delivered a better user experience, had more features for admins to use, and saved time on many device management tasks compared to Microsoft EM+S.
According to the report, "[b]y spending less time on digital workspace and device management tasks, as well as having a better experience, your IT admins can have more time to devote to other key initiatives in your company. In addition, the sooner an admin finishes necessary management tasks, the sooner the device and digital workspace is ready for use."
To learn more about the usability benefits and time savings of VMware Workspace ONE, read the full report at facts.pt/RkBweL.
About Principled Technologies, Inc.
Principled Technologies, Inc. is the leading provider of technology marketing and learning & development services.
Principled Technologies, Inc. is located in Durham, North Carolina, USA. For more information, please visit PrincipledTechnologies.com.
Company Contact
Principled Technologies, Inc.
1007 Slater Road, Suite #300
Durham, NC 27703
press(at)principledtechnologies(dot)com