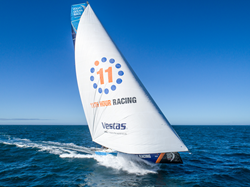 All of us at Bluewater passionately believe that clean drinking water is a basic human right. That's why we are committed to do something about it by using our ingenuity to develop new purification technologies
Stockholm, Sweden (PRWEB) September 26, 2017
Bluewater, a world leader in drinking water purification technologies, has joined forces with Volvo Ocean Race contender Vestas 11th Hour Racing to deliver pristine drinking water and slash the need for single-use plastic bottles at stopovers during the 2017-18 Volvo Ocean Race. The initiative follows on from Bluewater's success in avoiding the use of a quarter-of-a-million plastic water bottles in the America's Cup Village on Bermuda in June during the 35th America's Cup.
"There are two issues fundamental to consuming water: The first is to provide people access to clean drinking water and the second is to halt the deluge of plastic being dumped every year in the sea," said Bluewater founder and environmental entrepreneur Bengt Rittri. He noted how Bluewater addresses both concerns with the company's unique purification technologies and disruptive business thinking that offer ways to reduce the plastic debris being caused by the over 500 billion plastic bottles produced every year.
Rittri said Bluewater was proud to have been chosen by Vestas 11th Hour Racing as a partner supplying water purification solutions. Bluewater will install Bluewater Pro-powered hydration stations in the Vestas 11th Hour Racing team and hospitality facilities in the Volvo Ocean Race Village being set up at each of the principal stopovers during the nine month-long competition.
Removing lead and most other toxic metal, chemical and organic contaminants from tap drinking water, a high-performance Bluewater Pro water purifier can generate up to 6,912 liters (1,826 U.S. gallons) of purified water every day, which substantially reduces the need to purchase single-use plastic bottles. The technology also slashes the water wastage commonly associated with reverse osmosis by up to 79 percent.
Rittri said it is unacceptable that plastic in the sea will soon outnumber fish. New studies have shown that ocean-polluting plastic is already finding its way into the human food and drinking water chain.
"All of us at Bluewater passionately believe that clean drinking water is a basic human right. That's why we are committed to do something about it by using our ingenuity to develop new purification technologies and alternative approaches to substantially reduce the need for plastic bottles and their global transportation," said Rittri.
Speaking for Vestas 11th Hour Racing, Team Director Mark Towill said: "Strategic partnerships are a key element to success, and we are thrilled to team up with Bluewater on our shared mission to foster ocean health and promote environmental responsibility. We saw what Bluewater achieved during the America's Cup to reduce the need for single-use plastic bottles to practically zero while delivering large quantities of purified water on demand to thousands of people. Their leading-edge solutions will help us in our mission to be the most sustainable team in the Volvo Ocean Race. Together we are showing how business, and sport, can be a force for good around our planet."
###
For more information, please contact David Noble, Bluewater's head of communication, at david.noble@bluewatergroup.com or +44 7785 302 694
About Vestas 11th Hour Racing
Under the leadership of two experienced sailors, Charlie Enright and Mark Towill, the Vestas 11th Hour Racing team is set to achieve exemplary results in sport and sustainability in the 2017-18 Volvo Ocean Race. The partnership between Vestas and 11th Hour Racing sends a strong signal on the importance of protecting our planet with two leading players on climate change and ocean health promoting solutions within wind and water.
Vestas is the energy industry's global partner on wind power solutions. Vestas designs, manufactures, installs, and services wind turbines across the globe, with 85 GW of wind turbines in 75 countries, the company has installed more wind power than anyone else. Together with its customers, Vestas' more than 22,500 employees are bringing the world sustainable energy solutions to power a bright future.
11th Hour Racing, a program of The Schmidt Family Foundation, establishes strategic partnerships within the sailing and maritime communities to promote collaborative, systemic change benefitting the health of our ocean – one degree at a time. Since 2010, 11th Hour Racing has been harnessing the power of sport with an innovative and comprehensive approach through three primary areas of engagement: grants, partnerships, and ambassadors.
About the Volvo Ocean Race
The Volvo Ocean Race is the ultimate ocean marathon, pitting the sport's best sailors against each other across the world's toughest oceans. The legendary race that began in 1973 will start from Alicante, Spain in October 2017 and finish in The Hague, Netherlands in June 2018. Featuring almost three times as much Southern Ocean sailing as in the previous edition, the Volvo Ocean Race 2017-18 will be contested over the longest distance in the race's history at around 45,000 nautical miles, crossing four oceans and taking in 12 major cities on six continents. The Volvo Ocean Race has been the global sponsorship flagship of Volvo Group and Volvo Car Group since taking ownership of the Race in 1999. The Volvo Ocean Race is operated as a non-profit organisation. For more, visit http://www.volvooceanrace.com/en/home.html
About Bluewater
Bluewater is a world leading water purification company with its global headquarters in Stockholm, Sweden. Bluewater innovates, manufactures and commercializes compact water purifiers that harness the company's patented reverse osmosis technology to remove virtually all pollutants from tap water, including lead, bacteria, pesticides, medical residues, chlorine and lime-scale. Please visit us at http://www.bluewatergroup.com