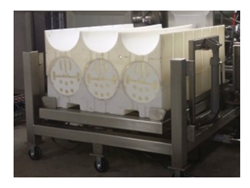 Simply put, tollers maximize their through-put and profitability, while customers get the most competitive per lb. tolling rate available.
White Pigeon, MI (PRWEB) September 27, 2017
"Next HPP's vision and knowledge with respect to HPP is unparalleled in the industry. Their vast experience in working with both tollers and customers of tollers gives Next HPP a unique understanding of the synergies that exist between the two. Simply put, tollers maximize their through-put and profitability, while customers get the most competitive per lb. tolling rate available." John Latella, former CEO Garden Fresh Gourmet.
Companies that do not own their own HPP machines will use a 3rd party tolling company to pasteurize their product. Standard practice is to load product off the production line into a reusable plastic container (RPC), cardboard box , or large Gaylord container. Product is then shipped to a 3rd party tolling company. The tolling company will unload the product from the RPC, cardboard box, or large Gaylord container, and put the product into baskets/totes for processing in the HPP Machine. Once the product is pasteurized, it is either put back in the RPC, cardboard box, Gaylord, or sent downstream to be packed for final distribution.
Next HPP eliminates all the double handling by having the baskets/totes loaded directly off the production line. The baskets/totes are then loaded on a pallet and shipped to the 3rd Party tolling company. At the 3rd party tolling company, the baskets can be directly placed in the HPP machine for pasteurization. Once completed the baskets can either be put back on the pallet and sent back to the customer or emptied for post pack off distribution. Empty baskets/totes can then be sent back to the customer to repeat the process.
Keith Schall, Director of Technology Solutions at CHEP, observed, "The management of reusable transport items (such as containers, pallets or RPC's), is often an afterthought or highly manual process that can create operational inefficiencies and quality concerns, resulting in additional expenses or CAPEX purchases. Proactively managing a fleet of reusable assets through exception-based dashboards or KPI's can all but eliminate these costs by providing stakeholders with timely and actionable data."
MORE ABOUT NEXT HPP
NEXT HPP entered the High Pressure Processing Industry after several years of operating and consulting for food processing companies who owned HPP machines. Next HPP has worked with several of the manufacturers of HPP machines in a variety of capacities. It is the experience gained in these different roles that provided the framework for the Next Generation series of machines and material handling solution. However it is the unique and diverse background of the entire team at Next HPP that brought to the forefront a machine that utilizes best practices from many different industries.
MORE ABOUT ALL NATURAL FRESHNESS
All Natural Freshness has become a Sales, Marketing, and Education resource concerning All Things Related to HPP.
MORE ABOUT CHEP
CHEP was founded more than 60 years ago. Since then, we've helped more companies move more goods, to more places, more efficiently and more sustainably than anyone else in the world.
We are a company of supply chain experts and engineers, and we've been in literally tens of thousands of supply chains. Bringing that unmatched experience to bear we've created a suite of pragmatic, actionable and affordable solutions that can make your supply chain quantifiably better. No one has more solutions to help you move things in, out and through your supply chain.