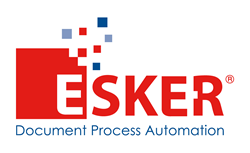 Thanks to Esker, we've been able to help our customers move to e-invoicing and better understand the complexities of the administrative field
MIDDLETON, Wis. (PRWEB) September 27, 2017
Esker, a worldwide leader in document process automation solutions and pioneer in cloud computing, today announced it is working with Xylem Water Solutions in Spain, a leading water technology company, to automate its accounts receivable (AR) process. Esker's cloud-based Accounts Receivable solution has enabled Xylem to automate both paper and e-invoice delivery, increase customer e-invoicing adoption rates and reduce costs by 60 percent.
Prior to implementing Esker, Xylem was sending 18,000 customer invoices annually — 70 percent via postal mail and 30 percent electronically. The AR team was spending an average of two-and-a-half minutes to send one invoice. With more than 1,500 monthly invoices to send, the team was spending too much time on error-prone manual handling.
With Esker, Xylem is able to deliver e-invoices to customers who wish to receive them electronically. This has increased significantly since implementing Esker — up to two-thirds of all customers now receive e-invoices. Xylem automatically delivers them by email with either a PDF attachment or a link to a web portal. E-signatures and time stamps are applied to ensure regulatory compliance in more than 50 countries. Esker's portal allows Xylem and its customers to securely access and review their respective invoices, and customers can select their invoice delivery preferences (e.g., postal mail, electronically, etc.). For the remaining one-third of customers who prefer to continue to receive paper invoices, Xylem sends those invoices to Esker's mail production facilities where they are printed, folded, stuffed, stamped, handed off to the postal service and archived electronically.
Benefits of AR automation
Since implementing Esker's solution, Xylem has experienced significant benefits, including:

Faster invoice processing
Immediate delivery of e-invoices to customers
Eliminated 21,000 sheets of paper annually
Improved invoice traceability, facilitating the management of unpaid invoices
Improved efficiency when searching for invoices thanks to electronic archiving
Increased AR team's productivity and freed-up time for staff to spend on higher-value tasks
Increased customer e-invoicing adoption rates
"Thanks to Esker, we've been able to help our customers move to e-invoicing and better understand the complexities of the administrative field," said Germán Álvarez, director of administration and continuous improvement at Xylem Water Solutions in Spain. "By modernizing our invoicing process, we've achieved significant return on investment with improved efficiency, cost savings and reduced paper use and physical space."
About Xylem Water Solutions
Xylem Water Solutions is a leading global water technology company committed to developing innovative technology solutions to the world's water challenges. The company's products and services move, treat, analyze, monitor and return water to the environment in public utility, industrial, residential and commercial building services settings. With its October 2016 acquisition of Sensus, Xylem added smart metering, network technologies and advanced data analytics for water, gas and electric utilities to its portfolio of solutions. Headquartered in Rye Brook, New York, with 2016 revenue of $3.8 billion and 16,000 employees, Xylem does business in more than 150 countries through a number of market-leading product brands.
About Esker
Esker is a worldwide leader in cloud-based document process automation software. Esker solutions, including the acquisition of the TermSync accounts receivable solution in 2015, help organizations of all sizes to improve efficiencies, accuracy, visibility and costs associated with business processes. Esker provides on-demand and on-premises software to automate accounts payable, order processing, accounts receivable, purchasing and more.
Founded in 1985, Esker operates in North America, Latin America, Europe and Asia Pacific with global headquarters in Lyon, France and U.S. headquarters in Madison, Wisconsin. In 2016, Esker generated 66 million euros in total sales revenue. For more information on Esker and its solutions, visit http://www.esker.com. Follow Esker on Twitter @EskerInc and join the conversation on the Esker blog at blog.esker.com.