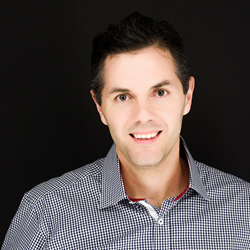 I'm so excited to join the largest, most influential entrepreneurial movement in the world. GKIC makes an impact in the lives of business people, their families and their employees.
Chicago, IL (PRWEB) September 29, 2017
When the puzzle piece fits perfectly in place, you know you are one step closer to having a complete "big picture". That's the way GKIC, the Glazer-Kennedy Insider's Circle, feels about the addition of Jorge Olson as the Chief Marketing Officer.
Jorge Olson is no stranger to GKIC. He has been associated with GKIC for years, an influential member of the entrepreneurial organization serving as Certified Magnetic Marketing Advisor, a speaker at GKIC events, collaborating in webinars and teleseminars and as President of GKIC Mexico.
As Chief Marketing Officer, Jorge will envision, strategize and execute GKIC's growth plan for the Renegade Entrepreneur Movement. He'll run the marketing department and team, attract new leads, prospects and customers and provide value to these customers with information, training products, coaching and consulting services.
A Beacon of Successful Marketing Solutions
"GKIC has always been a strong resource to entrepreneurs and business owners," explains A.J. Mirabedini, CEO of GKIC, a provider of marketing and business breakthroughs to small-business owners around the world. "Jorge will be leading the advancement of our marketing services, making GKIC a beacon of successful marketing solutions. As a long-time member and friend of GKIC, he has spoken on our stages, been featured in our publications, interviewed on our member calls, and helped lead our membership growth in Mexico. He is the perfect fit!"
A Leader among Marketers, Executives, Small Businesses and Latino Entrepreneurs
Jorge Olson has been a Marketing Revolutionary from the age of sixteen. He started with influence, then marketing, becoming a VP of marketing at the age of twenty-seven, then CEO and entrepreneur of several software, distribution, consumer goods and marketing companies both public and private. A veteran of ten businesses and two investment funds, Jorge continued his career mentoring business owners on marketing, and by writing books on business, self-promotion and entrepreneurship both in the USA and in Mexico. Jorge has launched over 1000 consumer packed goods into the marketplace and has worked with institutional investors, Fortune companies and start-ups as an advisor, mentor and consultant. Now, with GKIC, he'll work with Renegade Entrepreneurs all over the world.
"Entrepreneurs will change the world," said Mr. Olson. "They will do it with influence, with passion, and by pushing for social and economic change." He continued, "I'm so excited to join the largest, most influential entrepreneurial movement in the world. GKIC makes an impact in the lives of businesspeople, their families and their employees."
A Big Picture: Prosperity
Jorge Olson will take a major role in GKIC's Renegade Entrepreneurial Movement. "Business owners have been pushing for change, for prosperity and asking for help in achieving their goals of prosperity" he said.
GKIC has always embraced real-world experiences where results ruled. Entrepreneurs and business owners don't have marketing dollars to waste on strategies that don't work. The "Renegade" method integrates classic lead generation advertising with proven multi-step, multi-media approaches producing a flood of leads, customers, and profits. GKIC has helped over 93,000 business in 167 countries discover the renegade marketing and business secrets that have changed lives. Stresses diminished. Profits soared. Dreams fulfilled.
Mirabedini noted "With Jorge guiding this movement, we will continue to lead GKIC members forward in their pursuit of prosperity."
About GKIC
"With GKIC You Can Grow Your Business Your Way!"
Providing a community of entrepreneurs, business experts, magnetic marketing, best practices and the pillars every small business needs to grow their business exponentially.
For twenty years, GKIC has helped Renegade Entrepreneurs grow their businesses all over the world, providing a save heaven for learning, practicing, experimenting, and launching new businesses, products and services. GKIC insider's circle is a small business community that provides tools, knowledge, software, training, and coaching to small business owners and their employees.
Visit http://www.gkic.com for more information, of call 800-871-0147 to speak with a business consultant.