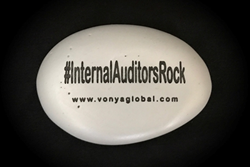 (PRWEB) September 27, 2017
Vonya Global has created a new Twitter Hashtag titled #InternalAuditorsRock. The plan for #InternalAuditorsRock is for the company to host a monthly open dialog on Twitter about the internal audit profession.
Internal Auditors serve a valuable role for corporations around the world. Internal Audit is an essential part of the "third-line of defense," providing assurance to the Board of Directors and Executive Management on Risk Management, Compliance, and Governance processes, policies, and procedures.
The purpose of this initiative is to create an organic online forum where people from around the world can share information, knowledge, and content relevant to the Internal Audit profession. Vonya Global plans to use this as a vehicle to advocate for the internal audit profession by broadcasting the value of internal audit to the global business community. The first session was held on September 14, 2017 and centered on internal audit best practices. The conversation can be found by searching #InternalAuditorsRock on Twitter.
In addition, the Vonya Global is distributing paperweights in the form of #InternalAuditorsRock rocks. There is an ongoing contest that awards prizes each month to the most interesting photo of the rock posted to Twitter. The company is encouraging those interested in participating to request a rock through the #InternalAuditorsRock website: http://www.InternalAuditorsRock.com.
ABOUT VONYA GLOBAL: Vonya Global is a management consulting firm that provides internal audit, corporate governance, compliance, and risk management services to global corporations. The firm's assurance and advisory services assist Audit Committees, Audit Executives, and Executive Management in assessing and improving effectiveness and efficiency of internal controls in operations, financial reporting, information technology, and compliance. While headquartered in Chicago, IL, Vonya Global has regional operations throughout the world.
Vonya Global LLC
150 N. Michigan Ave
Suite 2935
Chicago, IL 60601