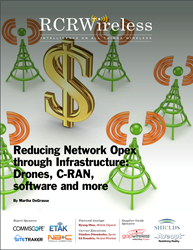 "The cost savings is a very big driver," said Lee Priest, CEO of drone service provider ETAK Systems. "They are getting 3-4 times as much information as they got in the past by sending up a crew, and the accuracy tends to be better."
Austin, TX (PRWEB) September 27, 2017
Wireless carriers are caught between a rock and a hard place, as price wars put a cap on the revenue carriers can make from mobile data, and consumers strain the network by downloading more and more of that data. Delivering more data should cost carriers more, but it doesn't always work that way. In fact, wireless carriers are actually decreasing the amount they spend per dollar of revenue and per gigabit delivered.
How is this possible? There are many actions mobile operators are taking to cut costs, and one of them is controlling network expenditures. These expenses can constitute up to 30% of service, revenue, according to analyst Kyung Mun of Mobile Experts.
As RCR Wireless News explains in a new report, there are several ways carriers can reduce network operating expenses.
"New network architectures are helping carriers control costs," said report author Martha DeGrasse. "Centralized radio access networks connected by fiber to small cell nodes mean that operators can scale their network processing power by upgrading a discrete set of central locations, instead of touching every site."
Carrier aggregation and other technologies associated with LTE-Advanced are enabling carriers to deliver more data using their existing spectrum, which brings down their cost per bit. In this feature report and accompanying webinar. executives from Verizon Wireless and Sprint explain how they are using these technologies to increase spectral efficiency and network capacity.
Third party solutions are also helping network operators control expenses. Two solutions highlighted in this report are project management software and drones. Drones with cameras are used to inspect cell towers, especially when operators want to add new equipment, and the images are tagged with GPS coordinates and loaded into 3D modeling software.
"The cost savings is a very big driver," said Lee Priest, CEO of drone service provider ETAK Systems. "They are getting 3-4 times as much information as they got in the past by sending up a crew, and the accuracy tends to be better."
Companies that contributed insight for this report include Verizon, AT&T, Sprint, Crown Castle, NB+C, CommScope, ETAK Systems, SiteTraker, Gap Wireless, Aveopt, and Strategic Venue Partners. The webinar features Kyung Mun of Mobile Experts, Ed Donofrio of Verizon Wireless and Lee Priest of ETAK Systems.