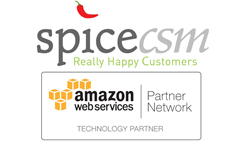 Potsdam, NY (PRWEB) September 27, 2017
SpiceCSM a digital transformation platform for enabling the Customer Engagement Hub, announced today its integration with Amazon Connect, which provides a self-service, cloud-based contact center service. SpiceCSM has enhanced its Unified Customer Engagement Hub to integrate the Amazon Connect softphone application natively in a single interface. The SpiceCSM process editor provides a visual development environment to easily expand the functionality of Amazon Connect.
The Amazon Connect on-demand cloud-based contact center services include skill-based routing, dynamic contact flows, as well as the Amazon Lex natural language chatbot services. The Amazon Connect services runs on Amazon Web Services (AWS). To see all AWS Regions where Amazon Connect is available, view the AWS Region table. Using SpiceCSM's specialized pre-built AWS Lambda function, data can seamlessly transfer between Amazon Connect and SpiceCSM. Additionally, integration capabilities with Amazon Connect allows users to write their own AWS Lambda functions for other AWS Services, including Amazon Simple Storage Service (Amazon S3). Any data imported to Amazon Connect can then be passed to SpiceCSM.
"Amazon Connect increases the ease and speed with which businesses can improve customer service and SpiceCSM's integration with Amazon Connect allows customers to create a Unified Customer Engagement Hub," says Pasquale DeMaio, General Manager of Amazon Connect at Amazon Web Services, Inc. "By leveraging Amazon Connect, customer experience leaders can easily integrate their existing systems and incorporate AWS offerings, such Amazon Lex, to enable Virtual Agent and AI capabilities."
Utilizing its seamless integration with Amazon Connect, SpiceCSM becomes the front-end for a Unified Customer Engagement Hub. The solution offers a fully embedded Amazon Connect softphone directly in the user interface to simplify how a contact center employee interacts with Amazon Connect through SpiceCSM. SpiceCSM provides a low-code, visual integration and development environment that makes it simple to create complex processes. The proven Business Rules Engine allows automated events to be assigned to specified process triggers. This, coupled with a full-featured CRM and Workflow Engine, enables efficient management and automation of the entire customer journey.
"Our customers are proving every day that SpiceCSM is the platform for disrupters. Working with AWS is key as we introduce our powerful Customer Engagement Hub to a broader audience," says SpiceCSM CEO Mike Ryan. "By leveraging Amazon Connect, customers can enable their own disruptive visions with a cloud-based, do-it-yourself, low-code development."
SpiceCSM's integration with Amazon Connect offers customers many advanced capabilities that they can implement quickly and easily to enhance their hybrid architecture. With SpiceCSM and Amazon Connect, contact center managers have a complete telephony, customer management, and business process solution to create their own Unified Customer Engagement Hub.
About SpiceCSM:
SpiceCSM is a leading platform for creating a digital ecosystem that connects disparate systems, people, and processes, and orchestrates interactions to greatly enhance the user experience and better leverage existing infrastructure. Combining a powerful integration platform, robust business rules and work-flow engines, intelligent robotic process automation, and a unified interface with dashboard and analytics, SpiceCSM provides organizations with key capabilities to innovate and transform their business operations without expensive, time consuming rip and replace initiatives. To learn more about SpiceCSM, visit http://www.spicecsm.com.