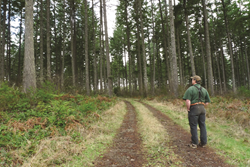 WASHINGTON, D.C. (PRWEB) September 27, 2017
The American Forest Foundation (AFF) today released a progress report on the Farm Bill's support for family forest owners, a 21-million-strong group of Americans who own the largest portion of forests across the U.S.
Family forest owners own more than one-third of U.S. forests, more than the government or corporations. These forests help provide clean drinking water, habitat for wildlife, wood for homes and products, good-paying rural jobs and more.
"Family forest owners want to do what's right by the land," said Tom Martin, President and CEO of the American Forest Foundation. "They care about clean water, wildlife, and how their forests are connected to a greater ecosystem. What's more, for the most part, they provide these benefits to all Americans for free. The helping hand and financial support the Farm Bill programs provide are vital to landowners' ability to manage the land and provide these benefits."
The Farm Bill is the federal government's largest investment in land conservation, particularly in providing rural families and individuals with the support they need to care for their forests and the resources we derive from them. Since 2014, more than $1.86 billion has been invested through the Farm Bill to assist family forest owners. This is three times the amount allocated to programs for family forest owners through the annual appropriations process in the same timeframe.
A summary of the report's findings:

In the past 3 years, the Farm Bill's forestry and conservation programs helped family forest owners conduct conservation efforts across 10 million acres, or more than 9,000 acres a day.
The Environmental Quality Incentives Program (EQIP) is helping tackle wildfire risk, insects and disease, improve water quality and more. Specifically, it a). Assisted forest owners with tree planting, stand improvement and other conservation practices across 1.7 million acres. b). Supported landowners in installing 8,300 miles of fire breaks to help prevent catastrophic wildfires – a length 3 times longer than the width of the U.S. c). Wrote 5,000 new management plans for more than 560,000 acres.
The Farm Bill's forestry investments have not only put forests to work, but they have also put rural communities to work. AFF estimates these programs supported upwards to 86,000 rural jobs.
Public-private partnerships that utilize Farm Bill funding, such as the Regional Conservation Partnership Program (RCPP), have stimulated investments on the private side, with private industry, non-profit groups, local governments, universities and more, investing nearly $2 to every $1 federal dollar in these partnerships.
With the Farm Bill up for reauthorization in 2018, AFF is asking Congress to build on its support for family forest owners with these improvements in the next Farm Bill:
Maintain funding and support for woodland owners in forestry and conservation programs
Improve technical assistance and program implementation for woodland owners
Support cross-boundary, landscape-scale efforts to tackle forestry issues, especially wildfire
Provide support and regulatory assurance for landowners managing for at-risk wildlife
Support a strong, diverse forest products industry to help grow markets for timber
In addition, AFF co-chairs a 100-plus coalition, the Forest in the Farm Bill Coalition, a collection of landowners, forest product companies, conservation interests and more that supports improvements in the 2018 Farm Bill.
The full Farm Bill progress report, Forest in the Farm Bill recommendations and more can be found on at forestfoundation.org/farmbill.