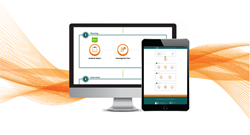 "Ask any HR professional, and they'll say they dread the term "workplace investigation, " explains Dana Barbato, CEO of InvestiPro. "InvestiPro transforms those investigations into positive experiences."
BEND, OREGON (PRWEB) September 27, 2017
Human recources technology company InvestiPro recently closed seed round funding from Cascade Angels. The Bend, Oregon-based company has attracted numerous investors and is gaining traction as more HR professionals flock to the online workplace investigation platform.
InvestiPro is a cloud-based automation platform created by HR professionals, for HR professionals. Designed to simplify and automate workplace investigations from start to finish, it keeps the process timely, consistent, and above all, compliant.
Since InvestiPro eases the stress when an investigation hits, it's also a tool that improves accountability and company culture.
"Ask any HR professional, and they'll say they dread the term workplace investigation," explains Dana Barbato, CEO of InvestiPro. "InvestiPro transforms those investigations into positive experiences."
Their recent success includes use of the platform by a wide variety of clients, from small businesses to Fortune 5000 companies.
The Investment
Cascade Angels is a professionally managed, investor driven venture fund that creates opportunities for investors and businesses with connections to Central Oregon to drive economic growth and fuel prosperity.
"InvestiPro is our 16th investment overall and 3rd investment this year," said Julie Harrelson, CEO of HGI, Inc., Fund Manager, Cascade Angels. "Their platform addresses a complex HR process. We're also excited to have another Bend-based company in the portfolio."
InvestiPro will use the funds to hire several new sales positions, while continuing to invest in the platform's technology and marketing.
InvestiPro's Platform Benefits
InvestiPro inspires confidence in the hectic world of HR. From new hires to VP's, it helps build a solid foundation for these professionals to perform compliant work, and often ends up improving workplace culture.
"We have a different mentality when it comes to investigations," explains Barbato. "I've really spent a lot of years trying to develop a way to get a positive outcome out of these investigations in the workforce, to lay a strong foundation for company culture through accountability and trust."
With the average time cost of a manual workplace investigation at 80-160 hours, InvestiPro's ability to automate and streamline the process is appealing to anyone in charge of performing these investigations.
InvestiPro's Features
Users receive unlimited investigations, guided interviews, online training and investigator support.
Integrated features in the platform support the entire investigation process, from filing a complaint to a final determination, and include:
Record employee complaints
The InvestiPro platform asks the questions necessary to clearly document the details of the complaint and the parties involved in the incident(s) that require an investigation.
Investigation planning
The Plan automatically populates using the details in the complaint, and allows for customization. Legal notices are created for each participant in the investigation.
Guided Interview Questions
The interview sections are customized for the complainants, accused, and witnesses. Relevant questions are provided, clarifying questions may be added, and a credibility assessment process is included in each interview.
Assessment Tools
The assessment page provides an overview of the responses and credibility observations, and asks the necessary questions required to determine if there is sufficient evidence to substantiate the complaint.
Determination
The determination page recaps the information behind the final determination for review by the decision maker. Suggested corrective and preventative actions are listed for each party and final notices are generated for the victim(s) and accused only. A fully documented final report is provided at the conclusion of the investigation.
------------
About InvestiPro
InvestiPro simplifies workplace investigations by using cloud based technology to automate and standardize the investigation process. Not only does this save time and money, but using InvestiPro ensures a consistent, compliant outcome every time. In fact, our clients like the product so much, they use it for investigations into theft, policy violations, and customer or patient complaints. Add in the templates, online harassment and discrimination training, and support from an HR investigator that are included with membership, and InvestiPro is your total employee relations solution. See for yourself with our demo on-demand at goinvestipro.com
About Cascade Angels Fund
Founded in 2013, Cascade Angels is a professionally managed, investor driven venture fund that creates opportunities for investors and businesses with connections to Central Oregon to drive economic growth and fuel prosperity. The Fund's investors include prominent business leaders, exited entrepreneurs and institutional investors who are committed to contributing to a sustainable economy and building Oregon's entrepreneurial ecosystem. Since 2014, Cascade Angels Fund has invested over $2M in 16 early stage companies that cumulatively employ over 150 people. For more information, visit http://www.CascadeAngels.com, Gust.com or http://www.twitter.com/CascadeAngels.