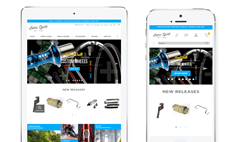 "Being able to provide sophisticated services like buy online pickup in-store for our local customer base, along with our standard e-commerce shipping services, has elevated our service-level..." Drew Tripplet, E-commerce Manager Ben's Cycle
(PRWEB) October 02, 2017
The Ben's Cycle story began in 1928, when founder Ben Hanoski recognized the need for a place to find specialized, hard-to-find, quality bike parts—a key differentiator that continues to make the retailer a go-to source for cycling enthusiasts. Vince Hanoski, Ben's grandson, has guided the business into the digital era. This year they made major strides forward by overlaying powerful new unified commerce technologies from UniteU to connect the dots between their existing systems, and to launch a new, fully-integrated e-commerce site. The results have been dramatic, not only enhancing customer experience, but streamlining operations and their business across in-store and digital channels.
Just as in the beginning, the team ensures the vast inventory is made available at competitive prices, including the American-made brand Milwaukee Bike Co., manufactured right in Milwaukee where the retailer is based. The mountainous inventory of parts, accessories and complete bikes, along with the desire to allow customers to completely customize specific bikes and parts online, presented a challenging amount of data complexity. Not only do the unique attributes and specifications for a dizzying amount of products require normalization for presentation on digital channels, but it's also necessary to update that information dynamically across multiple technologies.
The e-commerce technology used by Vince's team previously had no interaction between inventory sources or reconciliation with Lightspeed®, their in-store point-of-sale system. The team had reached a point where they were spending a great deal of time manually working on data, and needed a much better way to "connect all the dots."
UniteU's Unified Commerce Data Hub™ toolset solved these challenges, streamlining product data and inventory from multiple sources, including suppliers, manufacturers and their Lightspeed system. By unifying inventory sources with UniteU's flexible Cloud-technology, then shaping data on-the-fly and synchronizing it with digital channels, it's possible to present a much wider and more dynamic selection of products to shoppers. By using UniteU's platform to integrate vendors' product data, Ben's Cycle has been able to grow the available product count on their new site by an impressive 15,000 SKUs (stock-keeping units). Front-end messaging to accurately set customer expectations is now presented automatically, based on the product's source—it informs the customer if the item is available for buy-online pickup in-store that day, within 3-4 days for close-by inventory sources, or different messaging if it requires shipment.
"Being able to provide sophisticated services like buy online pickup in-store for our local customer base, along with our standard e-commerce shipping services, has elevated our service-level," says Drew Triplett, who leads Ben's Cycle's Internet sales and operations. "The much broader inventory availability has increased our reach and expanded our revenue potential."
While inventory is pulled from multiple sources to display on the website, all sales are reconciled with the Lightspeed point-of-sale, which is the system of record. This provides the Ben's Cycle team a complete unified view of all their in-store and digital-commerce channels. In addition, if an order is placed online for a product made available by an integrated vendor feed, when UniteU's platform inserts that order into Lightspeed, the product automatically gets created in the point-of-sale at the same time, removing the need for duplicate data entry.
The Unified Commerce Data Hub is also being leveraged to post selected products from their web-rich catalog to marketplaces, including an automated product information feed to Amazon. Ben's Cycle was previously posting all products to Amazon manually. Now with a streamlined process, and the addition of vendor feeds, the amount of merchandise posted has increased dramatically, and the Amazon channel is experiencing a much faster rate of growth.
In conjunction with the sophisticated data services the new platform offers, the front-end of the site is designed with ease-of-use and flexibility in mind. It's responsive to any device-type, and allows shoppers to build a completely custom Milwaukee Bike Co. bike from-start-to-finish, or the perfect custom wheelset by assembling compatible components from the retailer's huge selection of rims, hubs, spokes, and other parts.
"We wanted to build a site, that could match the level-of-service and customization a customer can get here in our retail location," said owner Vince Hanoski. "Making this available for self-service online was an unattainable challenge with our last system. The new back-end improvements, along with the flexibility of UniteU's front-end design, has allowed us to make the process intuitive and visual—easy for customers to complete a full product customization on their own."
"We are looking forward to seeing this brand grow as our technology partner," says Soumen Das CEO and Founder of UniteU, "they have accomplished some really innovative things, and are a company that is committed to offering consumers store-like service online. We are excited to see this accelerate their business."
About UniteU:
UniteU®'s e-commerce platform and Unified Commerce Data Hub™ technologies make it attainable for retailers to deploy the most advanced responsive e-commerce capabilities, including buy online pickup in-store, flexible and profitable omnichannel fulfillment, and feeding products to digital marketplaces and shopping channels. UniteU enables retailers to accomplish more with their retail assets—bridging the gap between online and in-store—and allowing them to create seamless, engaging shopping experiences.
UniteU's superior technology has resulted in an impressive client list including brands: Als Sporting Goods, Princeton University, Penn State, Hickey Freeman, Mexicali Blues and all Worldwide Golf properties.
About Lightspeed:
Headquartered in Montreal, Canada, Lightspeed is the most powerful cloud-based commerce solution for independent businesses, in-store and online. More than 45,000 retailers and restaurateurs processing over $15 billion in transactions annually use Lightspeed to grow and manage their business. Founded in 2005 with offices in Canada, USA, and Europe, Lightspeed is backed by Accel Partners, iNovia Capital, Caisse de dépôt et placement du Québec (CDPQ) and Investissement Québec (IQ).
Find us and our customer love by visiting http://www.lightspeedhq.com,
Facebook: Facebook.com/LightspeedHQ,
Twitter: @LightspeedHQ and Instagram: @LightspeedHQ.