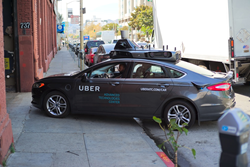 The oncoming wave of autonomous automotive technology does not mean that pedestrians and motorists can in any way relax their guard
Los Angeles, California (PRWEB) October 11, 2017
A September 25 article on Nasdaq reports on a new high in the value of General Motors stock coinciding with interest around the company's first semi-autonomous Cadillacs. The cars are being promoted in an ambitious demonstration drive from New York to Los Angeles. Legal Defenders at the Law Offices of Burg & Brock, a Los Angeles-based personal injury law firm, says that while the new hands-free technology is exciting – and backed by a number of safety features to ensure that drivers are still keeping their eyes on the road – the oncoming wave of autonomous automotive technology does not mean that pedestrians and motorists can in any way relax their guard when it comes to navigating the nation's crowded streets and highways.
The law firm notes that it is definitely the case that the computers that will be largely controlling these cars will not be subject to the same human weaknesses that lead to most auto collisions, from fatigue and substance abuse to momentary distractions. Even so, this form of artificial intelligence is still new and it may be many years before all of the bugs are fully worked out of the technology. The Law Offices of Burg & Brock adds that, when fully autonomous "driverless" cars finally reach America's roads, the need for pedestrians and motorists to be aware of possible hazards will not decrease. After all, while machines might not get sleepy or drunk, it seems unlikely that they will ever be 100-percent foolproof, says the firm.
The law firm adds that autonomous technology may very well revolutionize transportation in the U.S. and around the world, but it will be a long road with at least some potholes sure to lie ahead. In particular, the Law Offices of Burg & Brock notes that Uber appears to be at the forefront of pursuing completely driverless transportation. The presence of an innovative, billion dollar company with a strong motivation to develop the technology and increase its profits, means that it's possible hundreds of thousands of fully self-driving vehicles may be on the road sooner than we expect. The impact on countless fields ranging from travel and hospitality, to personal injury and tort law is likely to be extremely interesting and significant.
Readers who are interested in learning more about personal injury specialists Legal Defenders at the Law Offices of Burg & Brock are invited to contact the offices at (800) 926-8197 or visit the firm's website at http://www.LegalDefenders.com. The firm's chief lawyer Dr. Cameron Yadidi Brock.